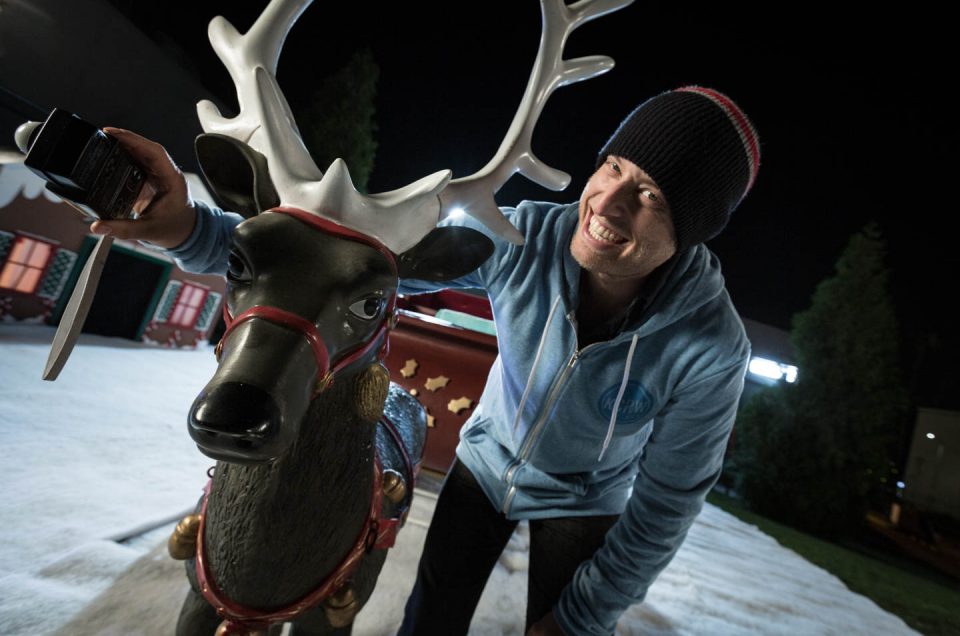 Animals, children, and fake snow: my first shoot for BuzzFeed had the holy trinity of elements that often torture filmmakers.
Thankfully everything went swimmingly.
Starting at 10:30AM on November 10, 2014, production designer, Ariana Nakata, and her art department transformed BuzzFeed's sparse lawn in Hollywood into a bustling winter wonderland.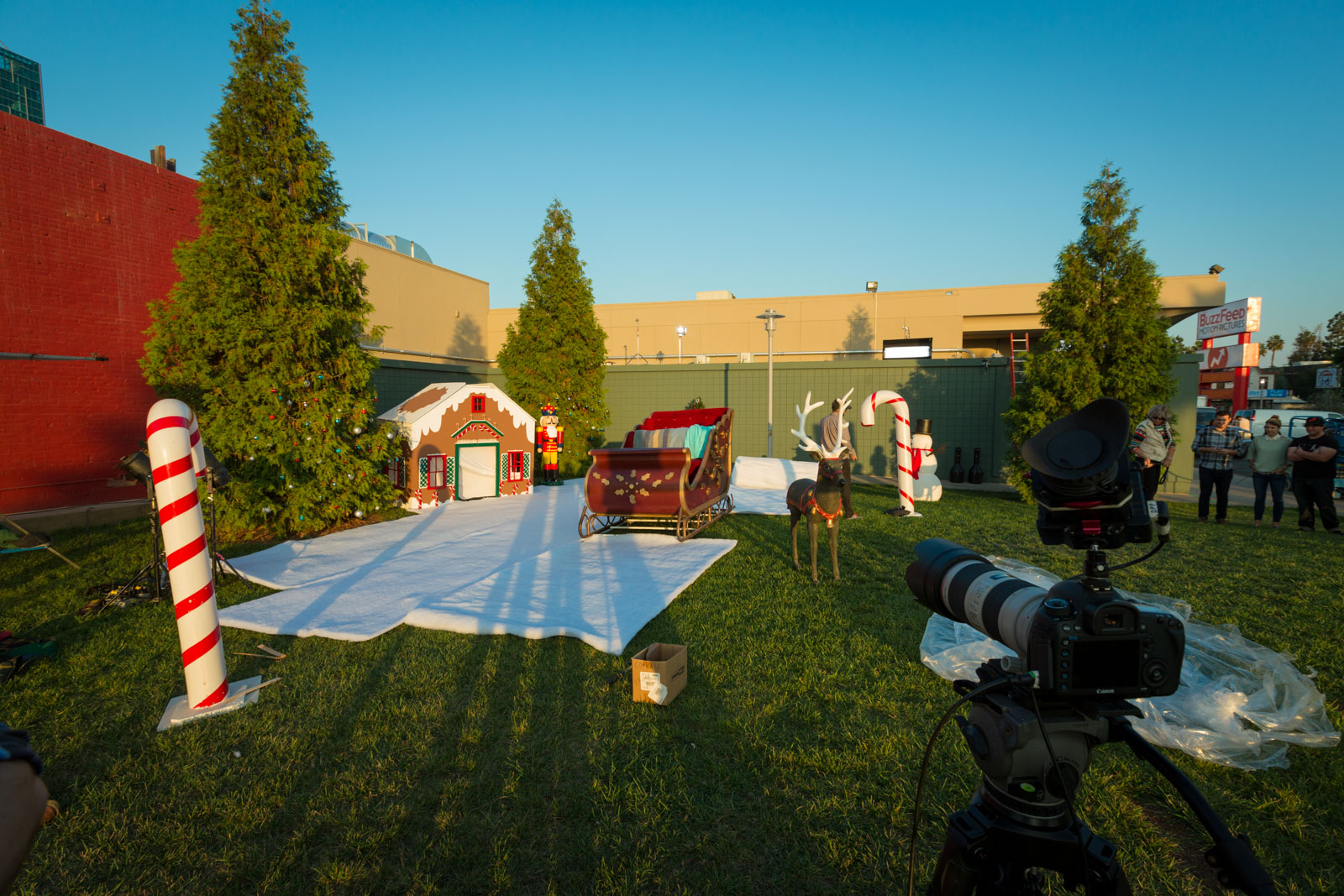 The schedule granted my team lots of daylight to rig our lights (11:30AM until first shot at 5:30PM) while art concurrently populated the set. Chun Ming Huang operated B-Camera, Michael Hoy operated C-Camera, and Austin Michaels served as gaffer.
Unlike my previous night shoot with Austin, we had access to plenty of power thanks to our location's history with outdoor events. Before BuzzFeed, the Academy of Motion Picture Arts and Sciences owned our location. In the summer of 2013, I watched Penny Marshall's Big on the giant outdoor screen during their annual "Oscar Outdoors" series.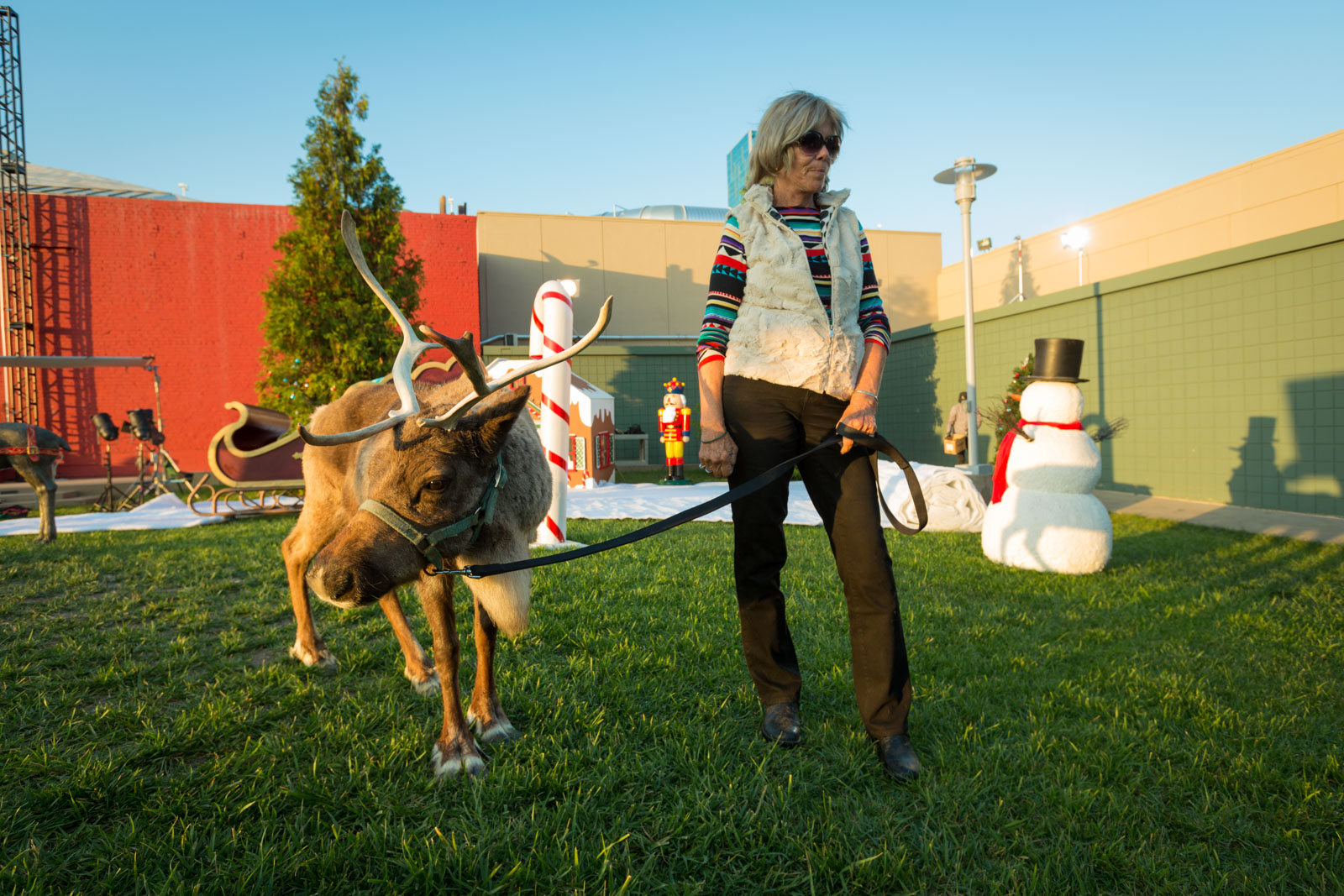 My second evening on the lawn fared even better than the first!
Since the kids would likely roam around the set as they pleased, I planned to work in broad strokes. Lots of warm soft light flooded the set while a K5600 Joker-Bug 800 HMI (through a 4'x4' frame of 251) provided a cool moonlight edge. To extend that cool backlight throughout more of the set, two additional 4' 4Bank Kino Flos (with K56 globes) found their way onto the roof.
The production still below should help illuminate the lighting scheme.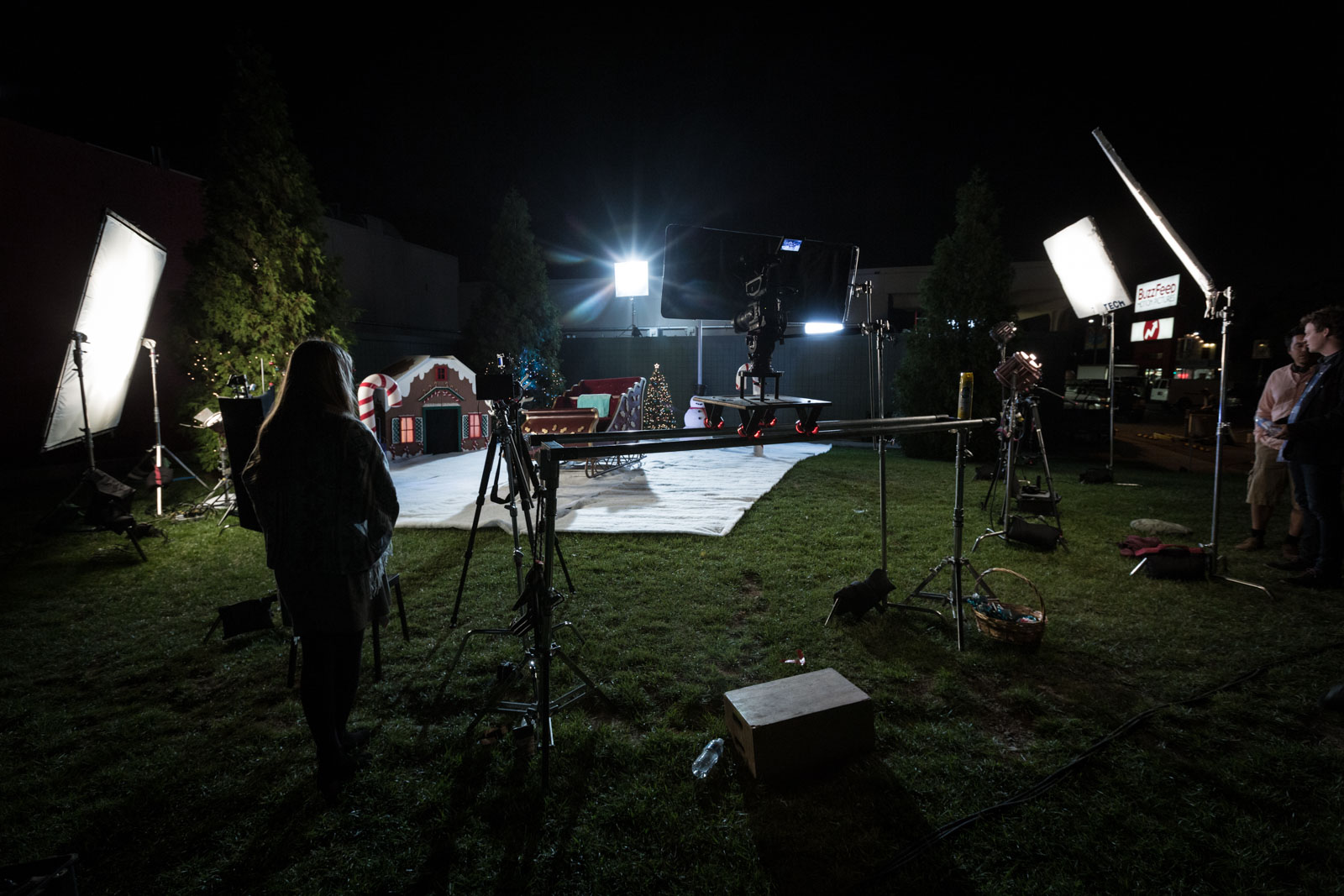 A 2K Baby Junior with 251 on the barn doors served as a back/side light from the roof (depending on the camera angle) and we pounded a 6'x6' Ultra Bounce with four 1K PAR cans and a 2K Mighty Mole for the key light.
For fill, we bounced a 1K Baby Fresnel into a 4'x4' bounce card. Two of these 1K rigs worked on the camera right side of the wide shot, which also gave C-Camera a great eye light.
For architectural lighting, we returned to Guitar Center for the same Thinpar64 LED lights that we used on the Love Me More video. We set the four units to white (roughly 6000K) and placed them around the set.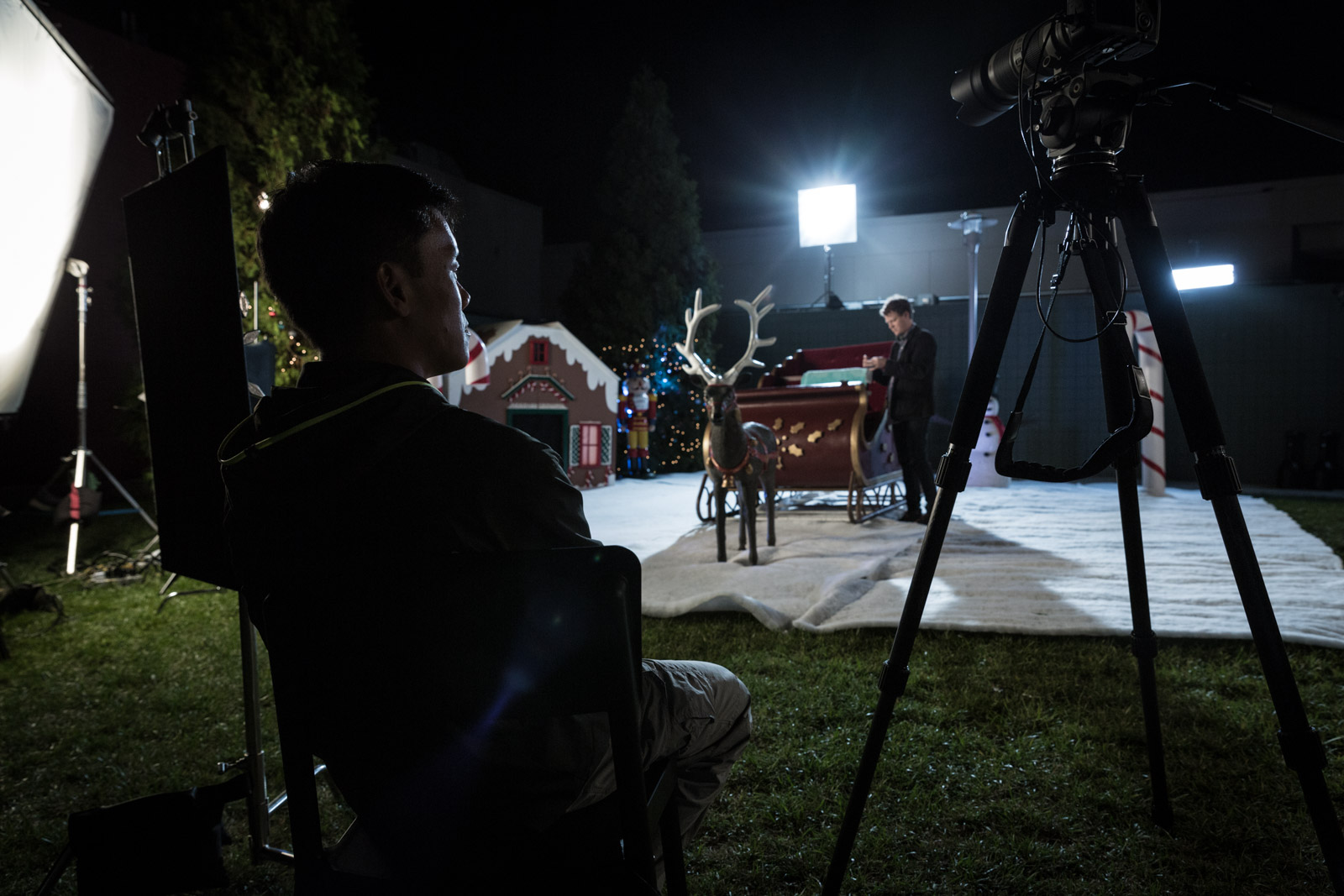 To breathe life into the gingerbread house, Austin brilliantly suggested that we get a flicker box to give the illusion of a warm fire burning inside. We discussed placing a hazer in the chimney to provide smoke, but ultimately resisted. Three 650W fresnels and the Magic Gadgets Shadowmaker Flicker Box Dimmer created the flame effect.
As you probably noticed from the videos, the kids are adorable. They were surprisingly well behaved and co-operative as well. Sure, some gave the reindeer way too many graham crackers, but things went smoothly. Props to our Director, Dee Robertson, for running a tranquil set.
I operated the master shot on a 6' speed rail slider with a Canon C300 on a 24-70mm/2.8L MkII. Chun Ming saddled up on the left side of me on sticks with a Canon 5D MkIII on a 70-200mm/2.8L MkII IS lens to get a nice close up on the kids. Mike shot perpendicular to us utilizing a 5D MkIII on a monopod with a 70-200mm lens and got great shots of the kids with the eye line close to the reindeer. Several different folks operated a 60D, which followed the youngsters as they walked onto the set and saw everything for the first time.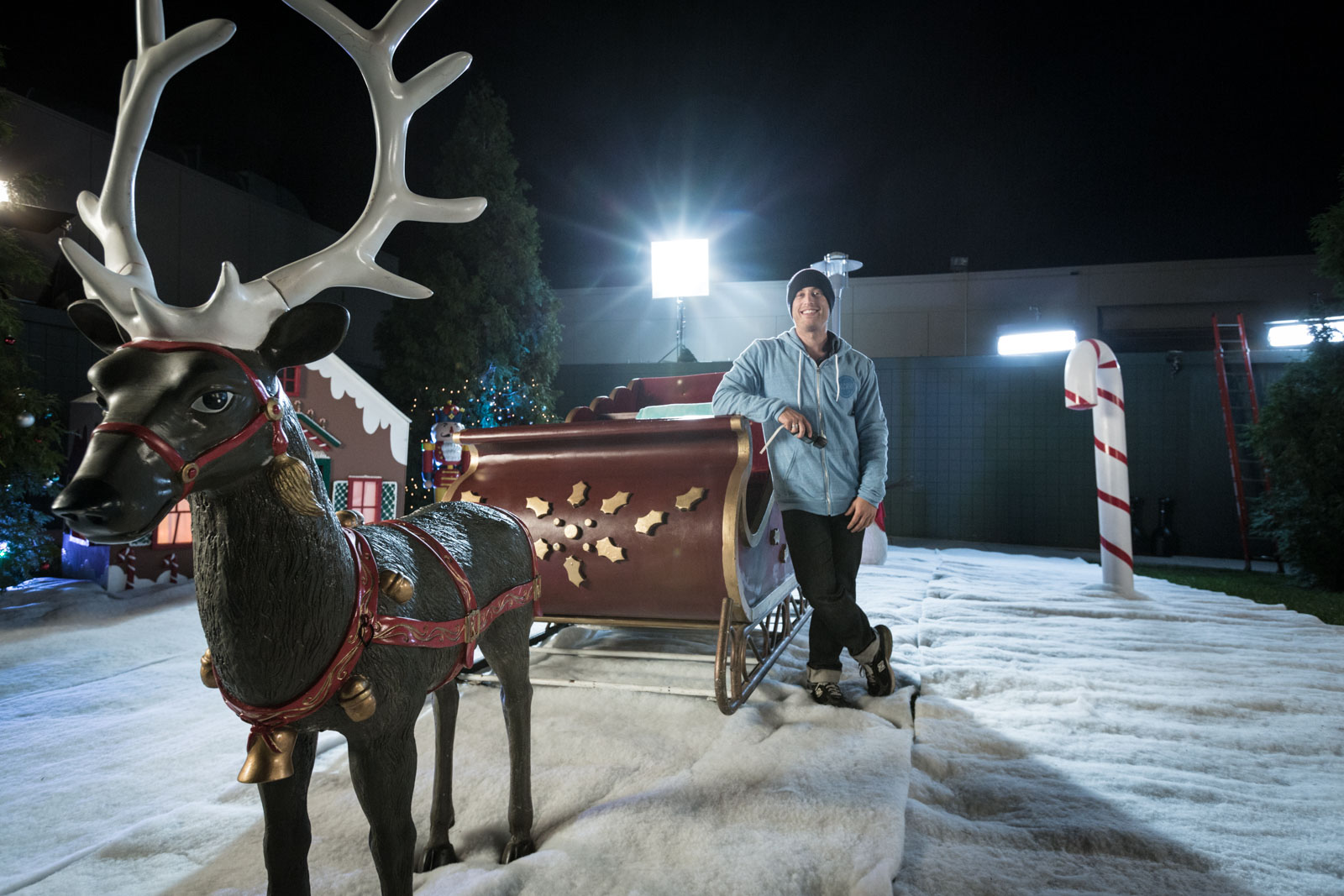 We spent about ten minutes on each kid and after the final participant, Chun Ming and I grabbed some B-roll with the reindeer and of the set.
In the comments section below, please share your favorite holiday memory.
---
You might also like
---
---