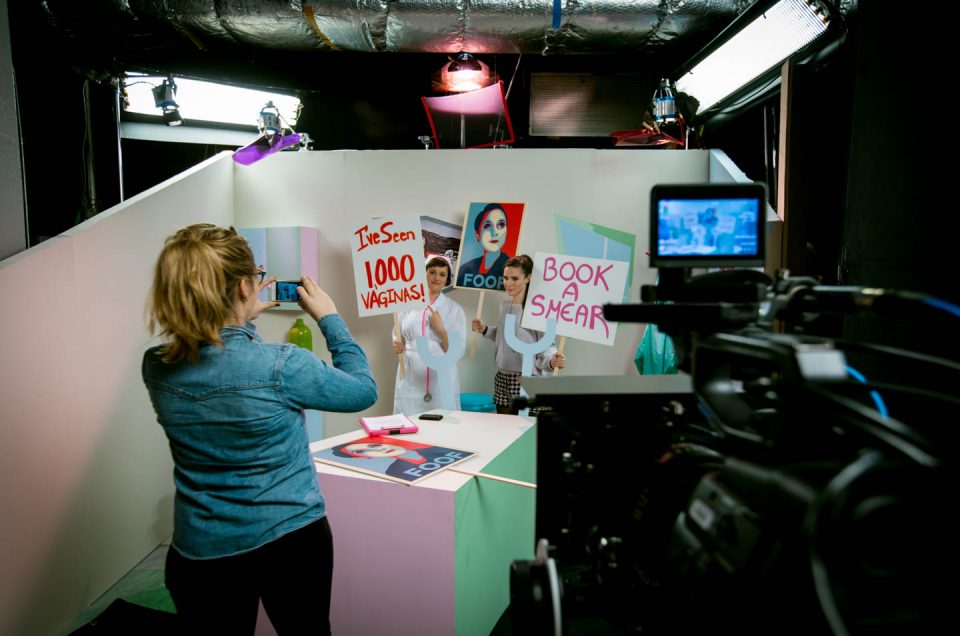 Just after shooting the music video for Valley Lodge's comedic rocker, "Kiss Me, I'm Drunk," our Executive Producer, Rebecca O'Malley, began her next project. This particular endeavor differs from your typical YouTube fare.
Rebecca assembled a video crew to document British comedian Nadia Kamil's Los Angeles performance at The Virgil's popular show, "Hot Tub w/Kurt and Kristen" on December 16, 2013. Unfortunately, I was unable to attend the star-studded evening, which featured Nadia, Kyle Kinane, Dave Ross, Mo Welch, and the incredible Father John Misty (who performed a solo acoustic version of "Hollywood Cemetery"). In her flawless 12-minute set, Nadia told some great jokes/stories, shared her "feminist burlesque routine," and urged women to take preventative care for their reproductive system in a clever rap song.
That rap song needed a music video.
New York based Director, Benjamin Ahr Harrison, crafted a treatment for "Pap Rap" in a 90's style popularized by Hype Williams in videos like "Gimme Some More" mixed with a homemade cartoonish aesthetic of Pee-Wee's Playhouse. The video required 3 elements: exterior Los Angeles, exterior New York City, and studio work. Jackson Myers shot the LA portion, but I lensed the other sections that occupy most of the video.
You be the judge, did we capture the spirit of Ben's initial inspiration board?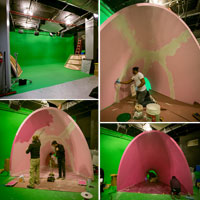 I stepped off of my red eye flight to Newark and into the studio to check out the build's progress on January 13th, 2014. Art department, under Blythe Cain's direction, did a great job constructing the large sets within the relatively small confines of Studio "A" at Bravo Studios in Manhattan. With little room to spare, we got both sets to fit!
Due to our schedules and being on opposite coasts, Ben and I did most of our pre-production on the build day. In addition to planning out our shots, we walked over to Set Shop to choose which pink gel would be best for our backlight. We settled on Rosco's Supergel #36: Medium Pink. Pink is the logical controlling color for the piece given the subject…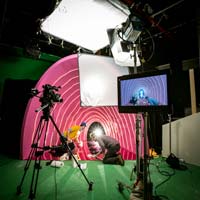 Adorama Rental Co. supplied our Canon C300 along with Canon Cinema Prime lenses (CN-E). The bonus of renting those beautiful EF mount lenses was that I could also use them with my 5D for behind the scenes photos! We had the 14mm, 24mm, 35mm, 50mm, and 85mm for the studio day but only kept the 14mm, 24mm, and 50mm for our location day.
Returning to the East Coast meant reuniting with two of my keys from the feature that I shot in Nashua, New Hampshire, "The A-Plate." Erik Kandefer returned as my 1st AC and Matthew Tomko served as my gaffer (previously he was my Key Grip). I was thrilled that my A-team was available.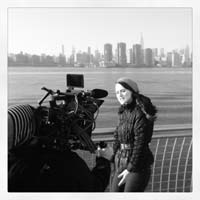 We started our first day on the cervical set, turned around to the gynecologist's office set, and concluded with the black background inserts. British Comedian Josie Long played our wonderful nurse and she had us in stitches the entire time. Did I mention how great it is to be surrounded by funny people?
Thankfully the arctic New York weather that had been plaguing the city all winter long took a vacation and we enjoyed a wonderfully temperate second day of shooting. Benjamin found a great location at Greenpoint Waterfront that gave us great vistas of Manhattan and some nice graffiti walls a block away. We Uber'd back to Time's Square and waited at Starbuck's for the sun to set.
We initially planned to shoot in the subway, but Ben had a last-minute change of heart. I attempted to persuade him otherwise, but the rush hour crowds weren't hospitable to our needs. On our way back to the hotel, we grabbed an impromptu shot with the giant american flag, which seemed appropriate for the lyrics near the beginning of the song.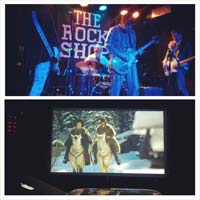 Rebecca and I supervised color correction in Studio City, CA on March 7, 2014 with my longtime collaborator, Azim Tirmizi. Using DaVinci Resolve, we boosted the colors and added some contrast. Times Square proved to be the trickiest section because we had to dig Nadia out from the shadows without popping the surrounding billboards.
Speaking of post, the timing of the shoot coincided perfectly with that of "Kiss Me, I'm Drunk." Tim Fornara (Director), Sean Donnelly (Colorist), and I color corrected in Astoria on Thursday. The next treat came on Friday night when we brought an HD projector to Valley Lodge's performance at the Rock Shop in Brooklyn. At the start of the set, the video made it's world premiere to a crowded venue!
I love New York and look forward to the next adventure there.
---
You might also like
---
---