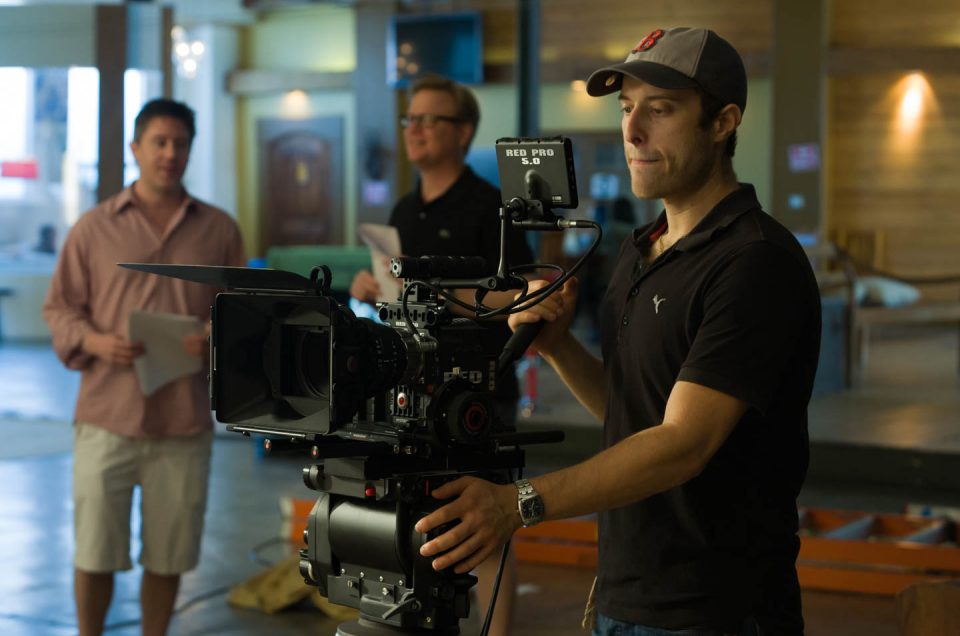 There is something fancy about a World-Wide Commercial. We often hear actors talking about booking a National Commercial, but you can't deny that the whole globe is a little wider of an audience… That is just what the hilarious Nathan J. Barnatt accomplished with his off-the-wall character, Trale Lewous.
Nathan is no stranger to the national commercial world. His most memorable appearance has to be the classic M&M's commercial, "Hungry Eyes," which I watch on a regular basis.
Anna Almendrala's interview with Nathan and his director/creative partner, Paul B. Cummings, for the Huffington Post covers the backstory on how Trale became the official face of Skittles, so I won't repeat that information. The quick version is that they made the impossible happen: their spec commercials went viral and got the attention of Skittles (or Ski-TELLS, as Trale would say).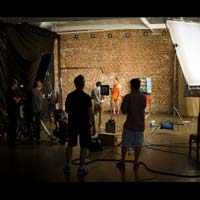 They tapped Paul and Nathan to create the official campaign for the new line of Skittles, Riddles, and the corresponding "Ride the Rainbow" web experience. Maker Studios handled the nuts and bolts of production for the ad agencies, Ryan Partnership and Olson (Chicago). Initially production was going to take place over two days, but after looking at our production needs, I suggested that we shoot at Solar Studios in Glendale. Solar has everything that we needed under one roof, which eliminated a company move and made a single day shoot possible. In my previous adventures at Solar, I always thought that it was odd to have a brick walled studio right next to their cyc, but it was exactly what we needed!
The only downside to Solar was that the brick wall was supposed to mimic the outdoor shots that Trale made famous in Santa Monica. Art Department creatively added some parking stripes with some white liquid paint sticks from the hardware store (similar to this) and took patches of grass from outside to break up the concrete and fill in the joint where the wall meets the floor. In lieu of the sun, we blasted a 9-light Maxi Brute (1K globes) through an 8'x 8′ frame skinned with 1/2 Grid. For fill, we threw a 2K Mighty Mole into a 6′ x 6′ frame of Ultrabounce. For the stuff of Trale at the pinball machine, that was all we required aside from some siders on the lamps. The name of the game was simplicity and keeping it natural looking: we didn't want to stray too far from the recipe of their viral videos that propelled Trale into this position.
While backlight wasn't in the cards for the brick footage, it was absolutely needed for the green screen portion of our day. We panned the Maxi 180° and trucked the 8′ x 8′ frame over to give Nathan a key on the camera left side and added a 4′ x 4′ frame of Opal between the lamp and the Grid to soften things up a bit. The fill rig walked over and we gave him some sidey back light with a pair of 2K Mole Fresnels with 251 on the doors. My gaffer, Arthur Hong, rigged an ARRI 1K open face with a Chimera (1/2 grid) overhead for a toppy backlight about six feet behind his mark. We added bottomers to the studio's overhead Space Lights, which brought up the green screen and ambient level. In the end, we needed additional firepower on the sides of the green screen and accomplished that with 2 more 2K fresnels.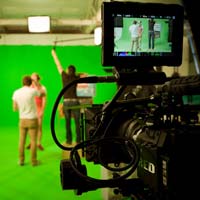 Camera side, we used Sam Haskell, Jr.'s RED EPIC-M package (build 2.0.5) with RED PRO PRIMES. The additional grip/electric gear came from Luka and catering was provided by the always tasty, Alex's Gourmet Catering (one of my favorites in town). It was pretty much smooth sailing the entire day and we walked out of the location exactly 12 hours from when we arrived.
Technical aspects aside, watching a brilliant comedian like Nathan work is always a pleasure and there were many moments where I had to bite the hell out of my tongue to keep my guffaws from blowing takes. When you have a chance, watch Omar's "Unscripted," which takes a behind-the-scenes look at production. Also, be sure to enter for a chance to win that amazing pinball machine!
In the comments section below, share your favorite flavor of Skittles and be sure to Subscribe to Nathan's YouTube channel, otherwise you will miss laugh out loud videos like this…
---
---