The James Kapner, who we all know as the music video director with whom I've collaborated on many occasions, is also a talented MC. Back when we first plotted to work together in the summer of 2007, he gave me his CD. Recording as "Chivalry," his skills on the m-i-c left a distinct impression and we've wanted to shoot a rap video for his own music for quite some time now. After establishing his style on two rock videos ("Motivation" and "So Long") and two hip-hop videos ("Throwin' Staxxx" and "Foot on the Gas"), there was no more waiting: we had to shoot something with James also in front of the camera.
We had a short timeframe before I headed out to New Hampshire to shoot Terre Weisman's "The A-Plate" so we capitalized and rented Bruce Monach's RED package (build 21, RED Primes, RC42) and made it happen on 5/15 and 5/16/10. The first day was pretty crazy (even for a Kapner shoot): we shot at an amazing apartment in Koreatown, which gobbled up a good chunk of our budget. We negotiated a flat rate for 20 hours, but somehow she wasn't very good at calculating time–when we left she made a comment about how we were there for 20 hours–even though we stayed for over 21. Given the storyboards and number of rooms the James wanted to utilize, we could've used another 8+ hours there, but we had to squeeze everything into one day so we could afford the location.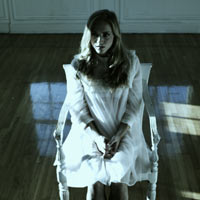 We mutually agreed to take a short turn-around to get the last bits of the video. Initially because Cody had a flight back to New York at 8pm so a 10-hour turnaround was out of the question. It then dawned on me that I was running out of time as well because I had a flight out of LAX at 7:15am that morning. By the way, location scouting on no sleep after a long shoot and cross country flight is not so sweet.
The performances, light switches, and the bathtub/toilet footage was all shot at Kapner's apartment on day 2. Matching the footage was a challenge because his bathroom is not nearly as ornate as our original location. Thankfully, it all cuts pretty well (would you have noticed if I didn't mention it now?). I'm really glad that we got the bathtub spigot on day 1 though, because it looks way better than The James's.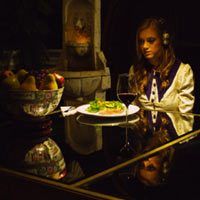 This marked The James's first shoot with the RED camera (we also used it on our next video for Chali 2na) and I'm happy to report back that he loved it. Initially we were going to shoot 5D, but given Kapner's love for slow-motion, I talked him out of it. Furthermore, the rates I was finding for a full 5D or 7D package were so close to what we were able to get a RED for that it made no sense financially or artistically. I also got him excited about the use of what we'll call the "4.5K Dolly". I explained that shooting at such a high rez and finishing at 2K meant that he could re-position shots and add digital zooms that would feel like a dolly (which we didn't have time to mess with on our schedule). He went crazy with them in the edit and their presence adds a great feel to the video that we couldn't have otherwise achieved.
The last thing that I want to address is the fact that we shot all of those fire, confetti, smoke, and glass breaking plates (on day 2). A few people asked me if those were CG or stock and my quick answer is no! It was much cheaper (and fun) to get them ourselves. We had a great time breaking those plates of glass and our art department did an excellent  job co-ordinating all of those elements. Honestly, it was too easy. All I did was strategically set up a 750W ETC Source 4 LEKO behind the elements, set a lenser, and go to town! If you or anybody you know need some nice fire shots at varying frame rates, let us know…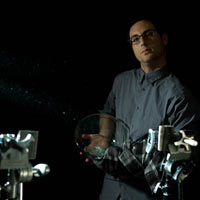 CREW
The James – Director/Editor
Meg Halloran – Producer
Dustin Pearlman – Cinematographer
Michelle Yu – Co-Production Designer
Cindy Chao – Co-Production Designer
Bruce Monach – Gaffer
Jen O'Leary – Key Grip
Diego Petrusky – 1st AC/Colorist
Jenny Moyal – Costume Designer
Megan Wright – Key Make-Up
I hope you all enjoy the video and have a happy halloween! In case it wasn't clear, The James was heavily influenced by Polanski on this show. Emily Wickersham had big shoes to fill and gave a spectacular performance. The video is something of a "Rosemary's Baby" and "Repulsion" hybrid. As embarrassing as it is for me to admit, I had never seen either films. I wasn't very impressed with "Repulsion" as I felt it dragged on and didn't get me involved in the story much. However, "Rosemary's" was amazing. That film perfectly holds up after all these years and I fell in love with it. Horror/suspense films have the slimmest odds withstanding the test of time, but this one definitely still works. I'm kind of shocked Hollywood hasn't tried to remake it yet! Studio folk, consider this video The James and my application for doing so.
---
You might also like
---
---