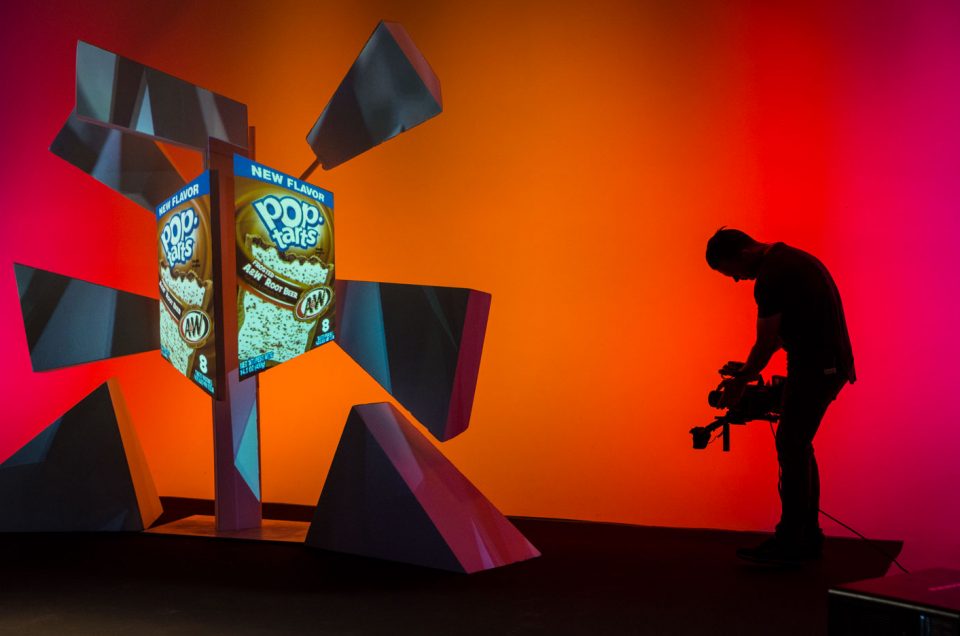 To celebrate the launch of two soda flavored Pop-Tarts® – Frosted Crush Orange™ and Frosted A&W™ Root Beer – we filmed pairs of artists from disparate genres performing mash-ups of their popular songs using the Smule Sing! Karaoke app. We shot several days in April and May at Siren Studios on Highland.
As someone who has spent countless hours in Karaoke bars (Gas Lite, Brass Monkey, etc.), I genuinely appreciate the concept and execution of the app! Unlike traditional karaoke, you can sing a duet with the original recording artist! To highlight this futuristic feature, they paired DNCE with Ne-Yo and Keke Palmer with Easton Corbin. I encourage you to download the free app for iOS, Android, and AppleTV!
The artist's busy schedules prevented us from block shooting everything on consecutive days. In the end, we built, lit, and tore down the set five times! It didn't bother my Gaffer, Team Bashet, much due to the relative simplicity of our lighting. Unfortunately, calibrating the projectors on the Pop-Tarts® sculpture required several hours so those technicians carried much more weight.
The last time Mark Rinehart (Director), Jeycob Carlson (B-Cam Op), and I all worked together was for the Los Angeles area Help Desk shoots two years ago! Conveniently, Jeycob and I both own similar Sony FS7 camera packages and R-Gear provided the remaining equipment. To minimize issues in post, Jeycob suggested applying the LC-709typeA LUT to the S-Log3 image. It's a nice compromise between too much contrast and delivering a flat image.
In addition to the 2 roaming FS7s, we rigged a GoPro Hero 4 Black as close to the Smule iPad as possible, and had two additional locked-off cameras that were repositioned several times throughout the day (another Hero 4 and a Sony A7S). On two of the days, Bennett Barbakow brought his motion controlled slider rig to get very dynamic time-lapses. Mark and his editorial team at OFFICIAL did a great job sifting through the heaps of coverage to find the gems!
Our most important camera arguably belonged to the iPad running the Smule app. To create an authentic experience for future users and the musicians, we captured the actual footage using their app. From a contrast and resolution standpoint (you'll notice the YouTube uploads are at 360p), it breaks my heart to see our lighting presented in such low-fidelity!
Every artist had several takes to record each song. In a throwback to the old days of music, the workflow required using a single take. Naturally, mistakes occurred near the end of the song on several occasions! Perfection wasn't the goal, but everyone wanted to do well. The average was four takes per song.
Mark gave us lots of freedom to capture the performances. Occasionally he'd give specific direction over the walkie, but we kept things instinctual. After a few takes, we both discovered the "money angles" and mostly returned to them for each artist. To keep things fresh, Jeycob and I swapped sides every take. Jeycob got magnificently energetic roving shots on a wide lens (Canon 16-35mm f/4L IS) while I got long lens static portraiture (Canon 70-200mm f/2.8L IS II).
After the performance, each artist left the theatrical setting for a more filmic interview space. We needed spotty lights on the stage to minimize spill on the Pop-Tarts sculpture behind the artists. Now with distance from the projectors, we keyed them with one big soft source (a book light) instead of the four harsh Source-4 Lekos overhead.
What's your go-to karaoke song? No judgment! For many years I rocked "Jessie's Girl" and "Take Me Home Tonight."
[/text][vertical_space ]10[/vertical_space][/column][column size="3″ offset="0″ content_align="left" use_paddings="false" padding=""] [vertical_space ]10[/vertical_space][blog_gallery width="225″ height="225″ ]3960[/blog_gallery][vertical_space ]30[/vertical_space][blog_gallery width="225″ height="225″ ]3965[/blog_gallery][vertical_space ]30[/vertical_space][blog_gallery width="225″ height="225″ ]3959[/blog_gallery][vertical_space ]30[/vertical_space][blog_gallery width="225″ height="225″ ]3957[/blog_gallery][vertical_space ]30[/vertical_space][blog_gallery width="225″ height="225″ ]3963[/blog_gallery][vertical_space ]30[/vertical_space][blog_gallery width="225″ height="225″ ]3962[/blog_gallery][vertical_space ]30[/vertical_space][blog_gallery width="225″ height="225″ ]3958[/blog_gallery][vertical_space ]30[/vertical_space][blog_gallery width="225″ height="225″ ]3961[/blog_gallery][vertical_space ]30[/vertical_space][blog_gallery width="225″ height="225″ ]3956[/blog_gallery][vertical_space ]30[/vertical_space][blog_gallery width="225″ height="225″ ]3967[/blog_gallery][vertical_space ]30[/vertical_space][/column][/row]
---
You might also like
---
---