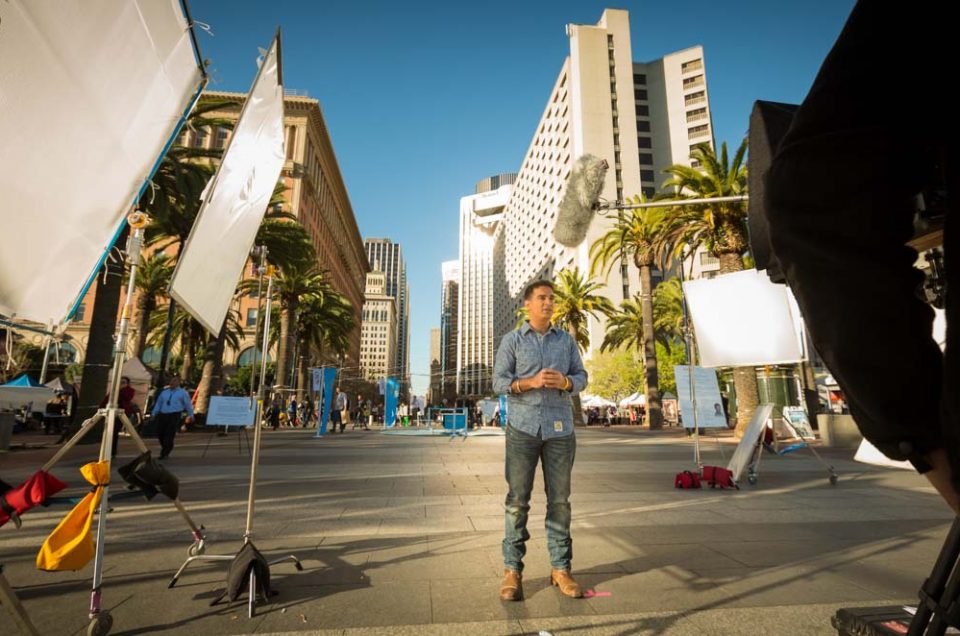 I'm happy to share some clips from my episodes of the OWN TV show, Help Desk. I spoke in general terms about the production earlier, but now you may watch 2-minute samples online for free!
As the network distributes more videos, I'll add them to this post. Please don't hesitate to return over the next few weeks!
Deepak Chopra Shows a Grieving Mother a Daily Practice to Bring Her Peace
My establishing angle faced the large fountain in the northern section of Grand Park near the Starbucks.
Most of Deepak's session had great light, but near the end, the sun hid behind a large building. While the sun blasts Valerie directly, the angle is quite pleasing (the participants were troopers about having  bright sun in their eyes).
To brighten Deepak, we had a 40″x40″ shiny board through a 4'x4′ frame of 251 just out of view of my wide shot. A 12'x12′ silver and gold lemay offered a lot of return on the camera right side of my frame to balance the ratios.
We had a very limited amount of time to move our gear/cameras from the preceding interview with DeVon Franklin, which faced the opposite side of the park.
Gary Zukov in "how to make a tough decision about love" in Portland, Oregon's Pioneer Square.
A majority of our crew were Portland locals who kept repeating how lucky we were to have such a pleasantly sunny day in March.
The photogenic courthouse of Pioneer Square made for one of our favorite backdrops of the entire series.
DeVon Franklin on His Decision to Practice Abstinence in Grand Park in Downtown Los Angeles
Before Deepak's session in Grand Park, we faced the LA City Hall building for DeVon Franklin.
As the morning sun traveled further away from my background, the polarizer more effectively darkened the sky around the City Hall in my wide shot.
Both sets of participants had a perfectly angled sun beating down on them! The C300 did an excellent job holding the contrast ratios in spite of our not shooting in C-Log.
Caroline Myss Gives One Woman Brutal Honesty About Her Relationship: "Get Out"
This clip features footage from several of our cameras. If you look closely at the 1:54 mark when Pamela walks away from the desk, then you can catch a glimpse of me on the left side of frame. I'm also at the bottom of frame for the opening GoPro shot.
Inder Mann kept things looking great for the San Francisco post-interviews. He primarily shot down Market Street, which offered some excellent vistas.
Shooting at the incredibly busy Embarcadero meant heavy foot traffic and lots of street noise, but it also added wonderful energy/excitement!
Dr. Michael Beckwith on Navigating Through Rough Dating Waters
This episode marked my first episode as Director of Photography on the series. A very thick fog dissipated just in time to keep the help desk's lighting consistent while shooting in Long Beach near the aquarium.
Rob Bell on Making the Time to Pursue Your Life's Work
We only shot one episode on Rob's day in Hermosa Beach and it marked our final shoot of the first season.
The surrounding buildings allowed Jeycob to get this wonderful angle on all of the action below.
Panache Desai on the Key to Finding Abundance and Success at the Deepest Level
The San Francisco skyscrapers served as a great backdrop to Panache's afternoon session. So many of our wonderful locations offered such varied views simply by turning 180 degrees!
Cheryl Strayed's Exercise to Embrace Your Vulnerable Side
The sun's path could've been more favorable for camera and talent, but I felt compelled to share this clip because of Cheryl poignant advice.
---
You might also like
---
---