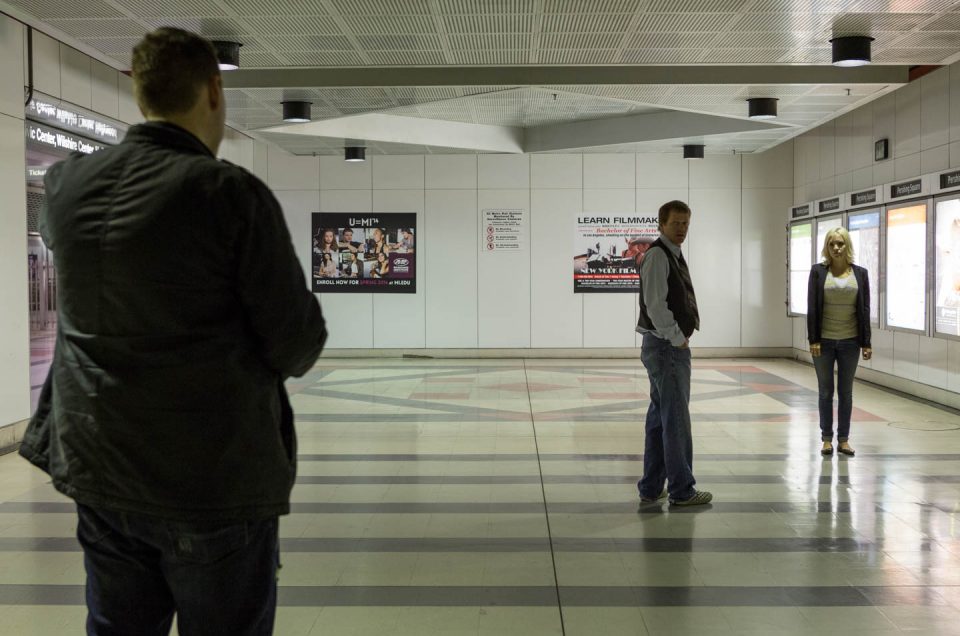 When Jason R. Miller asked me if I wanted to help him create a short film as part of DrexelDance 6, it sounded like a pleasant way to spend a few hours. The festival's prompt called for fake trailers and Jason had a simple and fun treatment to parody the classic teaser from David Cronnenberg's 1981 sci-fi horror film, "Scanners."
We found an evening that worked for a few other friends and we met on the streets of downtown Los Angeles on March 10, 2014 at 8pm to make cinema magic. Our leading lady, Brea Grant, by virtue of the fact that she was in almost every shot got to avoid touching any gear. However, since our numbers were small (a tenet of guerrilla filmmaking), Dave Foy, Ed Ackerman, Jackson Stewart, and Brian Collins generously lent a hand in the physical production when they weren't in front of the camera.
Even though we didn't have permits or permission to use our locations, we boldly danced our two 1′ x 1′ battery powered Bi-Colored LitePanels around various alley ways and nooks downtown. I'm quite happy with the look that Jason and I established despite limited resources and time. Jason deliberately selected our locations because of their proximity to each other and the amount of "natural" light from surrounding practicals.
We utilized my Canon 5D Mark III camera package in CineStyle mode. Thanks to the powerful LEDs, I mostly stuck to 320 or 640 ISO. Knowing that Jason would dirty the image in post, eased my concerns about digital noise. There were several occasions where we needed the practical lights to be brighter, which meant boosting the camera's sensitivity. I've always drawn the line at 1250, which we needed for the shot of Ed running to the dumpster (at 0:35) and the VFX shots down in the metro station.
When Brea throws the helicopter (at 1:02), it required 6400 ISO to get enough detail on the surrounding buildings. While there's a ton of noise in the blacks of the raw footage, it looks fine in the context of the edit and overall style. I'm always so hesitant to boost the gain like that, but the pros vastly outweighed the cons!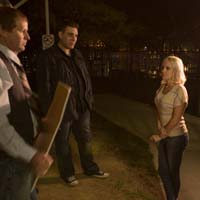 Dave Foy shooting a prop gun was our final shot of the night. Despite slimming down to 3 people total, we still had reservations with having a realistic looking gun out on the streets of LA. Around midnight, we found a protected spot with an interesting background and fired the martini shot. While watching/downloading dailies, we enjoyed tasty burritos from Tacos Mexico before driving home.
Considering the brevity of the shoot, post consumed the most time. Jason sent me a really polished cut Wednesday evening that barely changed. After making many small adjustments on his own, Jason and I met on Sunday (3/16) to do a final pass for color and effects. I focused on nailing the contrast ratios. It's supposed to look like an old print, so we couldn't crush the shadows too heavily. Deciding how far to push the highlights required finesse as well.
The boldest choice came on Jackson's close-up by the Metro elevator. The abundant overhead lights cast a ton of hard shadows and even light on him. Milking the blacks seemed like a good way to give the shot extra life. We've all seen an old print at a revival house that had some terribly degraded shots in it.
We're all very happy with the end product. It's short. It's fun. It's hard to resist watching multiple times. In fact, it's a project that we'd love to make for real! Judging from its reception last night at the festival, maybe we should…
UPDATE (3/21/14): uncle creepy at dreadcentral had some nice things to say about our trailer
---
You might also like
---
---