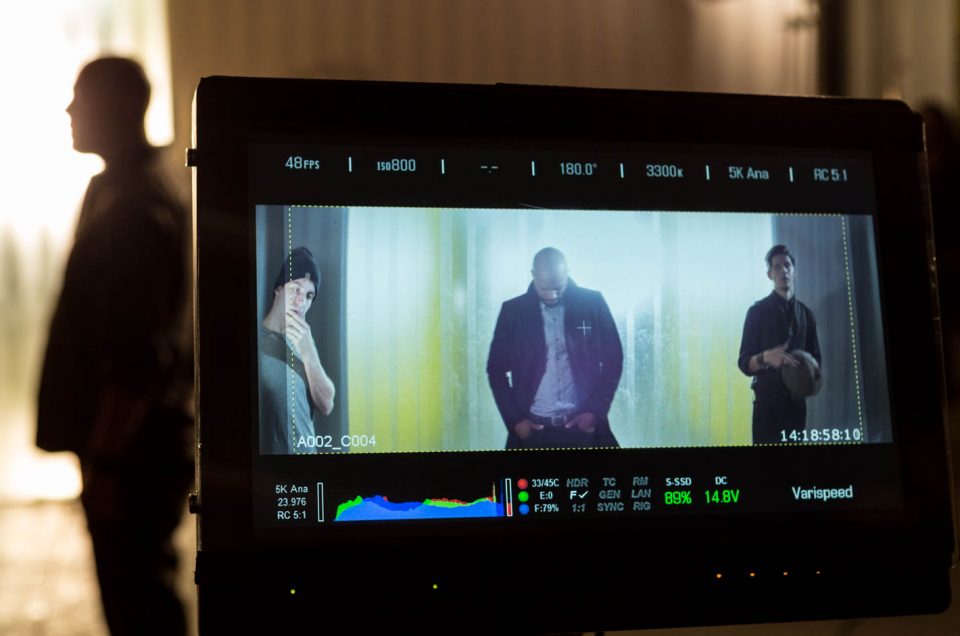 I'm happy to share the news that Vibe is showing us love for our newly released music video! Everything in music and film is all about timing and I'm so proud to finally share this piece with the world.
As somebody who loves the technical minutia of filmmaking and appreciates the history of the medium, anamorphic lenses are sacred to me. Compared to spherical lenses, they render the world in a very particular manner. The way that they distort reality was very intriguing for the dream-like treatment that the co-directors, James T. Moore and James Kapner, crafted. Long before it became "cool" to use anamorphic lenses on music videos, I've longed to utilize them. The movies that most inspired me to become a filmmaker — Pulp Fiction, Rushmore, Se7en, Terminator 2, and The Graduate — all share that common technical thread.
When my camera vendor, Blacklist Productions, revealed that they could upgrade my Zeiss SuperSpeed lens package to Kowa Anamorphics for only $200 extra, I jumped for joy. The excitement quickly spread to my directors and we were all eager to make things work. Composing for the widescreen aspect ratio of 2.40:1 is always a treat and often my preferred palate. However, like anything else we do in cinema, it must be decided on a case by case basis. When we returned to our location for the tech scout on Monday night (12/10/12), it became apparent that the extra room on the sides of frame would pose some composition challenges. The three of us were disappointed that this wasn't the "perfect occasion" to shoot anamorphic despite the opportunity. While I was leaning heavily towards SuperSpeeds at full aperture (1.67:1), we decided that I would sleep on the decision and make the final call at the camera prep the next day.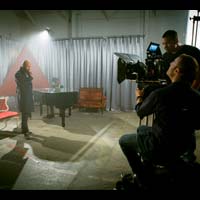 If I were a gambling man (which I'm not), then I would've placed a large wager that I would go with the Kowa anamorphics after seeing their beauty in person. Despite the challenge that they would pose with framing, lighting (the SuperSpeeds need much less light), and focus (anamorphic separates the weak focus pullers from the strong), I couldn't resist them. Looking through the 40mm anamorphic lens on our RED EPIC at the camera prep silenced my internal skeptic. I sent an MMS to the directors and we committed to 2x at 5K!
The only specialty gear that we needed was a +3 diopter to get some extreme close ups on the eyes and lips of Diamond Girl (Jodie Smith) and the insert of Common's eye. Like most anamorphic lenses, the Kowas offer unimpressive close focus distances. After working with James Kapner so many times, I knew that he would want to be as tight as technically possible, so I only bothered renting the +3.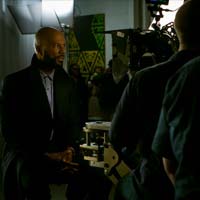 In their rewrite process, the video went from taking place exclusively within a mansion towards a more ambiguous location. Six months earlier, James Kapner and I shot a commercial for a new retailer in downtown Los Angeles, The Well. While it's hard to tell from that video because it was under construction when we last filmed there, their combination retail and warehouse space perfectly filled our production's needs. Not only did we film this entire video there, but we also hired our amazing stylists from their staff: Patrick Dylan Riley and Christina Berardi.
Since we only had one day to load in, shoot, and load out of the location, we had to keep things relatively simple and contained. To accomplish this, we limited ourselves to looking in one of two directions within the large warehouse. This enabled our production designer, Tyler Jensen, to efficiently focus his time and energy where it was needed most. To give his crew ample time to prepare the warehouse set, we shot in the storefront first. Once the clothing was removed from the racks/cabinets, we filled the void with glass mannequin heads. We then placed battery powered LED lights underneath each head to give them some practical light. The single banks of fluorescent lights in the ceiling gave me a nice base and I added units where appropriate.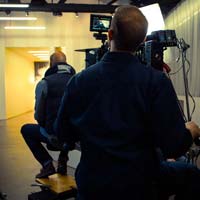 Our first shot of the day required our Chapman-Leonard Hybrid III dolly to have the 36″ camera extension pointed back towards the rear of the dolly. We also needed the seat offset to get Common further away from the lens (to get him outside of minimum focus distance) as he rode along with the camera and me. Normally you wouldn't want to begin a shoot with such an unorthodox set-up, but it worked best for the schedule. My Key Grip, Mark Farney, rigged several points from the oversized dolly to allow a nice 3/4 skip behind Common and a soft key light from above camera (just off axis). Because we needed some distance from our subject to get the right angle and spread on the back light, our dolly wasn't very agile thanks to the long C-stand arms protruding out from the rear.
Zack Wilcox, who often works as my gaffer, performed double duty and also pushed dolly for us. It was no easy feat walking backwards and guiding the dolly on the low-angle shot of Common since we laid no track and there were numerous obstacles surrounding him at the store. I'm thrilled with how the dolly moves look in the video. The Directors wanted to emulate Spike Lee's signature dolly style  and it really works with the aesthetic and the song.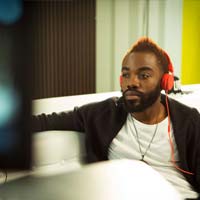 Our next major set up involved dollying as Common walks across the frame bringing us to Blaqstarr seated in the foreground. During the fifth take, a circuit broke just as we passed our hero. I was livid because it was our first well timed take and it seemed ruined, but the directors loved the accidental light gag. I checked playback to confirm that I was on board with it and I was. When the key died (a 2K Mighty-Mole bouncing into a 4'x4′ bead board), Blaqstarr remained bathed in a wonderful moody backlight. Ironically, it is one of my favorite shots of the video.
One element that everyone loves about anamorphic lenses is their flaring characteristics. We had unique approaches for different parts of the video. The narrative sections almost exclusively got their flares from stationary 1K PAR64 Cans and/or ETC Source 4 Lekos that were strategically placed. The series of cut-aways with our actors against the curtains were the only instances we strayed. For several of those, we very steadily handheld a high-powered LED flashlight off camera. We eschewed flares for the white door/yellow hallway area and the three shots against wallpaper (at 2:44 in the video). That patterned background is actually the store's fitting room and it was awkward shuffling the actors in and out because my camera/tripod blocked most of the doorway. As the last set-up of the night, we grabbed those with just a Kino Flo Diva-Lite 400 as everybody wrapped the warehouse and loaded the truck.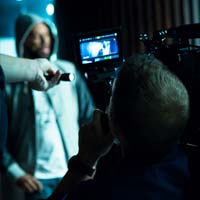 For the performances, we wanted a little more energy and movement on our flares. With the handheld shots, I pulled my own focus while my 1st AC, Chris Frasier and electrician, Kelly E. Reed, surrounded me on either side with flashlights (the second was a Mini MagLite – 2-cell AA) and watched monitors to see their flares. On the dolly shot of Blaqstarr by himself at the piano, Kelly masterfully operated the Leko to keep my lens flared throughout the 8′ dolly move.
To give you a better idea of what we were up against in the warehouse room, please look at this before/after shot. The transformation was drastic and we are forever grateful that only one direction needed a complete overhaul. The other hero wall (which we had to cheat as being a true 180 degree reverse) already had interesting design elements to it so Tyler only added a curtain to shield me from a reflective window.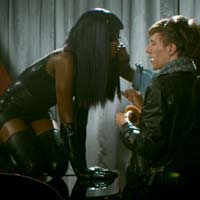 Speaking of shine, the spandex clad woman crawling on top of Blaqstarr's grand piano, Chasity Stewart, required a special ingredient to get her outfit to sparkle for camera. Christina Berardi procured a very unusual brand and type of personal lubricant (no, it's not on the shelves of your local pharmacy). Without getting into details, the bottle gave everybody on set a pretty good chuckle. Unfortunately, the residue that it left all over the piano would be no laughing matter for the folks at Hollywood Piano Company who were coming to set in a few hours to pick up their instrument. Buffing anal lube off of the piano in the middle of the night with rags and Windex makes for a funny story and–with some serious elbow grease–we eventually removed it all.
I couldn't imagine a more appropriate way to spend national soundcheck day, "12/12/12," than on a music video set with one of Chicago's all-time finest MCs, Common, and one of music's most talented rising stars, Blaqstarr. All in all, the last repetitive date of the century treated us pretty well.
In addition to our wonderful cast & crew, I need to thank Taylor Hart for introducing me to the kind folks at Blacklist. Without them, this video would look very different! I also encourage you to check out this short post that explores the post-production process on the video. In the comments section below, please share the title(s) of your favorite anamorphic film(s)…
---
You might also like
---
---