PLEASE NOTE: this was written last year and I would've published it sooner but I had to wait for the release of "Dear Diamond"
There has been a lot of talk around town about the visual effects industry. Without getting political and launching into my personal beliefs about tax incentives, runaway production, and corporate greed, I'd like to shine the spotlight on a talented artist who I've known a long time and have collaborated with on many occasions.
Jason R. Miller and his VFX company Skull Tree VFX are a great local resource for filmmakers in Los Angeles and around the world. As our latest collaboration proved, you don't ever need to be in the same room as your VFX artist to get a great end result. While this convenience is a blessing, it is also why great guys like Jason are running into way too much foreign competition for jobs.
A common misconception from audiences is that there are only effects shots in blockbuster monster flicks. Obviously "Life of Pi" required their wizardry, but many simple films utilize their artistry and technology to enhance what you see on screen.
–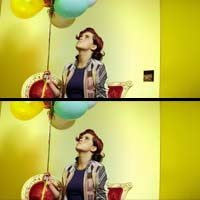 For my latest collaboration with James Kapner and James T. Moore, we only had six days from officially getting the green light to when we rolled cameras. With such little prep time, we had many challenges. Thankfully, Jason came to our rescue in post-production to solve some of our issues.
There is a unique section of the venue with yellow walls and a giant white door. Because it is a functioning door, there is also an unsightly handle. Our great art department tried to cover it up, but nothing looked quite right. We had no choice but to go ahead and shoot the compromised shot. After Jason waved his magic wand over the frames, the door's true identity will never be questioned.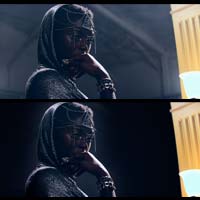 A majority of the video takes place in a giant warehouse. There wasn't enough time or money to dress the entire space so I was faced on a few set-ups to point my camera into the unsightly ceiling of the venue. The white walls were cause for major concern, but I knew that I could do a little magic with power windows once I got into color correction. My longtime colorist, Diego Petrusky, tried get it right, but it looked strange. We had all kinds of shapes in there but neither of us were particularly happy with the end result. Jason struck a wonderful balance between removing enough of the background that it wouldn't be distracting and not allowing the shot to look fake (Jamie feared that it would look like a composite if we cut her out of the shot completely).
–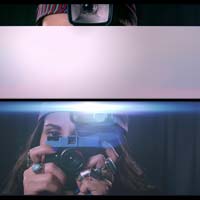 The other contribution that Jason made to the "Dear Diamond" video is a solution to a technological shortcoming. When a CMOS sensor is subjected to a short and bright flash of light, chaos ensues. There is a character who yields an old style camera with large flash bulb and in the two takes that we did with her, only one of the takes rendered anything on the flash and it is ugly. The naturally captured effect of the flash on a different shot was pretty interesting, but we needed Jason to craft something from scratch to give our visuals some continuity. His attention to detail is astounding. If you go through the shot frame by frame, you'll notice that he has the chamber of the flash go through a 'cooling down period.'
I alluded to this at the top, but thanks to dropbox and fast internet connections, we never had to be in the same room for these small fixes. That is huge because it saved us all a lot of commuting time in this traffic-laced metropolis of ours. It also eased the difficulty in co-ordinating a time when all of our schedules would be collectively available.
In November of 2010, Jason directed second unit and the opening title sequence of the horror film, "Chillerama." We had a good time at the drive-in and I'm really impressed with what he was able to do with that footage when he switched roles and did all of the visual effects for the demanding feature. His directorial skills can also be seen on a much larger scale for his feature-film debut, "Unidentified". Coincidentally, the film became available on VOD this week so you have no excuse!
In the comments section below give your favorite VFX artist a public shout-out or at the very least send him or her an email reminding them how much you value their contribution to the craft. If you want to read more about the "Dear Diamond" video, then click here.
---
You might also like
---
---