Over the years, James Kapner, aka The James, has been my most consistent and frequent collaborator. About a year ago, The James extended the family and bridged a working relationship with James T. Moore, or Jamie, as he prefers. It can be a little confusing for the crew to have co-directors with the same first name but when collectively referring to them, The Jameses suffices.
The three of us collaborated last year (12/12/12) on an epic music video with Blaqstarr and hip-hop legend, Common. Unfortunately, despite being 100% complete for many months, the video hasn't been officially released. It's been frustrating to keep some of my best photography to date a secret. We shot on the RED Epic with Kowa anamorphic lenses. On our latest project, Jamie singularly assumed the producing duties and didn't share the Director title with Kapner.
I'm happy to post this project that sprawled across several shooting days in May.
Our first production date (5/4/13), threw us a curve ball. I had a separate morning shoot near Culver City, so the earliest that we could all meet up in Malibu was 2pm. By the time we hiked up the trail to the distant shooting location, a dense fog began climbing up the canyon and strangling a once breathtaking ocean view. At first, we hated that its presence negated much of the depth once apparent in the background and that it felt too ominous. However, we realized that it added an interesting eeriness and welcomed departure from music video cliché.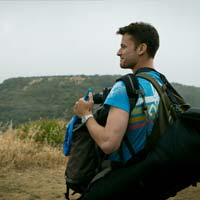 In Los Angeles, our weather is so disgustingly perfect 99% percent of the time that it's offensive when rain or even clouds decide to affect our lives. We expect blue bird skies all-day-every-day (except during June Gloom) that checking the weather isn't usually necessary. Instead, we have to constantly check for Sigalerts because traffic on our freeways has the most impact on our daily lives.
We packed minimal gear because of the steep 25-minute hike to set. The lack of direct sunlight rendered my bounce card useless, so I depended on a LitePanel Mini LED brick (5600K flood) for a little eye light on the close ups. Jamie, who has experience shooting, handheld the light while I had the camera on my shoulder shooting performance. It was an interesting dance that Jarell, Jamie, and I did: each reacting to the other's movements. Sadly, I don't believe there is any video evidence of our ballet.
To get our shots that day, we used every piece of gear in my arsenal. The Canon 16-35mm/2.8L Mkii and 24-70/2.8L captured most of the performance. We utilized the Technicolor CineStyle profile on my 5D mark iii and it was pretty crazy how little contrast existed on the histograms. The fog kept the image quite flat. Of course no Kapner shoot would be complete without a macro shot of an eye, so we nailed that with my Canon 100mm/2.8 macro. As we chased the sunset, the fast 50mm/1.4 was very handy in the low-light.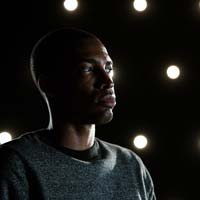 The next day began with some exterior shots of downtown Los Angeles near our location: Shotland Yard. On his initial scout, The James found a flat that had a bunch of small light sockets in it. We purchased a bunch of globes and arranged them into an interesting pattern and had our hero background. Our main performance shots were on a speed rail slider and after a few takes I showed James an idea I had with shifting the focus forward and back with the beat. It just felt right with the song and he liked it. Just in case we hated it in post, we did some takes without it, but I'm happy with the extra dimension that it adds.
My gaffer, Zack Wilcox and I kept things very simple with this shoot. Our biggest challenge was controlling the amount of spill onto the background as we needed to keep it as close to true black as possible. Our key light was a 2K Fresnel into a 4'x4' bounce card and we had two Source-4 Lekos for edge-lights. We didn't apply both Lekos on every set up, but they were ready.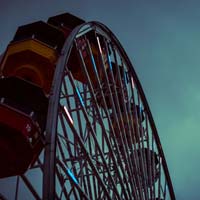 One of my favorite shots has Jarell in the chair with his key light panning off and on leaving him almost completely dark. Since we planned to have all of that footage in black and white, I added the daylight balanced LitePanel uncorrected to keep him from disappearing and give a little eye light for those moments of darkness.
Our next block of shooting was a little tougher on sleep schedules. I met Kapner in front of Jones Hollywood to grab some interesting close ups of blinking lights around 9pm on May 22nd. We spent the next few hours going around Hollywood in search of some cool elements to add depth and color to the video. We had a lot of luck on Hollywood Boulevard and returned to my Santa Monica apartment after midnight.
Kapner was adamant about getting shots at the Santa Monica Pier when no people were around. To ensure success, he crashed on my couch and we set the alarm for 4:40am. It wasn't pleasant mentally, but we got some great images of the Ferris wheel and overhead shots of the surf. In the editorial process, the elements that required an empty pier wound up on the cutting room floor. However, I'm confident that they will find a home in something else down the line though (I'll let you know here in my blog).
Satisfied with our pier footage, we met back up at 3pm to battle traffic and head up to Malibu for the final elements of the video. Arriving near high tide was great for the aggressive surf and we got some great shots of the ocean/beach and our hourglass prop (which also got cut). The weekday crowds were minimal, but there were two dudes shooting bikini clad ladies. It was a little nostalgic for Kapner and I to return to El Matador State Beach. I've been there numerous times for leisure in the interim, but our very first collaboration commenced on those very shores on January 18, 2008.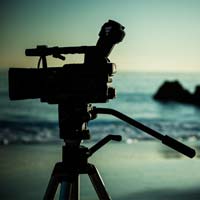 The post process went smoothly with our usual colorist, Diego Petrusky. Since a majority of the shots were stripped down to black and white, things moved pretty quickly. Unfortunately, the numerous overlays created extra work for The James prepping for color and then re-conforming the final edit with the timed clips.
This is our first time collaborating with hip-hop pioneer Russell Simmons's newly formed YouTube channel, "ADD – All Def Digital." We look forward to creating more content with such a prominent force in entertainment as they move into new media. Please don't forget to subscribe to their channel. Also, if you enjoy the sweet sounds of Jarell's voice, then I encourage you to download his album–legally–for FREE! After a listen, you'll understand why he's mentioned in the same sentence as Frank Ocean.
In the comments section below, please tell me what your favorite modern black and white movie and/or music video is. I'm overdue to re-watch it, but I'm going with Roger Deakins ASC, BSC's work for the Coen Brothers in "The Man Who Wasn't There."
UPDATE (7/23/13): I had to share this quote from Bryan Alexander at the Crosby Press about the video, "It's a sexy romp through artsy smoke, dimly lit rooms, a mist-filled hills. It feels like a carnival ride, if R. Kelly were the ride operator."
---
You might also like
---
---