I have some good news to share, MTI Home Video is releasing Arthur Fuller's feature film, 'Assassins Tale' on DVD on July 9th in North America. You can purchase the film from Amazon (feel free to pre-order now), Best Buy, CD Universe, DVD Planet, and you will see it appearing in your local RedBox locations starting July 16th!
If you are like me and have never used RedBox, then check out this offer for a free month, which includes unlimited streaming and 4 kiosk rentals per month. Just promise me that 'Assassins Tale' will be one of those 4 selections…
At this time, Blu-ray and V.O.D. are unavailable so don't waste your time scouring the web. My hope is that we do big enough numbers that they will offer the option down the road, so please grab a copy now!
Die-hard Anna Silk fans should flock to this release. She is the star of our film and has gathered a following from her popular Canadian TV show, 'Lost Girl,' which is a supernatural crime drama on SyFy. This film actually marked our second collaboration. Anna had a small arc on the web series that I shot for ABC entitled 'Voicemail,' way back in 2007 for director Jim Kehoe.
Anna wasn't the only familiar face on set. I had the pleasure of reuniting with Rob Roy Fitzgerald who portrayed a completely differeent character than I had previously seen in JP Riley's 'Act Naturally.' The two films would make a great double-feature to show the dynamic range that Rob possesses. Behind the camera, I also re-assembled two of my key collaborators from 'Act Naturally': gaffer, David Lassiter, and key grip, Cameron Shaw (since we only had one camera this time, she graciously changed departments).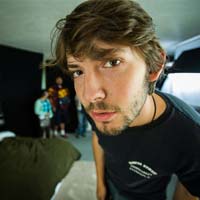 The film marked Arthur Fuller's directorial debut and he arrived super prepared with innovative ideas to hit a home run. We spent many hours discussing the look of the film in prep and extensively dissected every scene while in each physical location. Using my still camera, we fished for the best angles to most effectively tell the complex story that he penned with co-star/Producer, Guy Garner (who accompanied us on most of those adventures). Those efforts went a long way into our building a shorthand and contributed to our wrapping production two days ahead of schedule!
As the look of the film evolved, all of us were very excited to push the envelope with regards to colors and shadows. While Arthur's main passion was performance, he had a clear vision for the film. He wanted something edgy and that's the most exciting place to be creatively.  Mood and atmosphere are paramount in the world of these assassins and the lighting had to reflect that. Darius Khondji's incredible work on 'Se7en' was particularly inspirational. It stayed in my PS3 all through production to remind myself of the beauty of darkness!
To achieve that end, we kept Cameron and her department super busy setting up tons of floppies and cutters of various sizes. In terms of placement of units, I employed a lot of top light on this show and used less diffusion than normal. This gallery of stills offers a nice glance into our filmmaking process.
Line 204 provided our grip and electric gear, while The Camera House supplied us with a RED ONE and set of Zeiss SuperSpeeds (T 1.3). As you probably have noticed through these blog posts, I'm a big fan of pairing the RED with those classic lenses.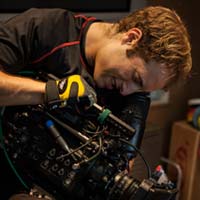 When the time came, I spent a week supervising the color correction with our talented colorist, Benjamin Kantor (he also did the Salvae – 'Silver Lake' video). Aside from adding power windows when appropriate and dialing in the look of the film to a precise degree, we went shot-to-shot and adjusted the headroom whenever necessary. Because we shot in 4K at 2:1 (build 17) but planned to output matted at 2.40:1, there was wiggle room vertically to get things just right.
Ironically, our distributor would only accept a 16×9 deliverable so the only people who got to see the film in it's intended presentation were those lucky enough to catch industry-only screenings that orchestrated the film's initial sale. We had selected a widescreen format to allow numerous characters to occupy the frame simultaneously. In the pan and scan process, roughly 26% of the horizontal frame got cropped and I have yet to see this version of the movie…
I'm thrilled that MTI Home Video is sending out our film to those in North America (more territories should be announced soon) so it can finally find an audience. If you want to see how 'Assassins Tale' looks without alteration, then please watch my newly released narrative reel below. From the 20 second mark until 1:06 you can witness the unadulterated fun in glorious high-definition (the clips in my montage reel are also properly formatted).
The film's initial release corresponds with my cousin's 25th birthday, which is cool because he visited the set while he was in town and landed a featured extras role in the movie. Be sure to wish Jon Pearlman a happy quarter life and look for him in the movie!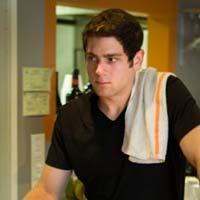 In the comments section below, tell me what your favorite hit-man movie is. Considering it played a major role in my wanting to become a filmmaker, I have to say 'Pulp Fiction.'
Lastly, here are some more links if you'd like:
Pinterest (I don't know how it works, but a bunch of my stills are on it)
Review from MatchFlick
Review from Critic Nic
Review from Influx Magazine
Review from 'The Direct to Video Connoisseur" (warning: this one isn't so positive, but you can't win them all)
---
You might also like
---
---