I'm very excited to announce that the world premiere of Josh Crockett and Daniel Sinclair's short film, "Dinner With Holly" will be held in Oxford, Mississippi at the 10th Annual Oxford Film Festival.  We don't have an exact date/time yet, but the festival runs from February 21st-24th of 2013.
Production of the film took place over two long summer days (July 17-18, 2012) at Daniel's home in the Atwater Village neighborhood of Los Angeles. The small cast and crew primarily consisted of old friends who all shared a common thread: Northwestern University. The biggest exception to the "White and Purple" theme, is the co-writer/director, Josh. However, he is in by association, since his longtime girlfriend, Kristin Slaysman, was a classmate of ours.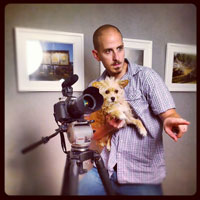 Speaking of relationship status, the film's co-writer/directors had the tricky task of guiding the performances of their partners in the film. In most movies, this doesn't have much recourse. However, in this Judd Apatow-esque script, Kristin in particular found herself in compromising situations. While this wasn't nearly as graphic as what Leslie Mann (Apatow's actual wife) and Paul Rudd do in "This is 40," there is something to be said about directing another man's love making technique with your lady. Aside from her great portrayal of the sexually adventurous Anna, Kristin Produced the film.
The hilarious Bridget Moloney plays the titular Holly. She and her husband, Daniel, had the easiest commute of everyone: we filmed at their house. Working with such talented couples was a sheer joy. Their collective dedication to the project really shines and has been integral to the film's success. Rounding out the talented cast, is Bob Turton aka "The Hardest Working Man in Hollywood." This guy is a comedic machine who is constantly working.
"Dinner With Holly" is a 12-minute comedy about a young couple who plan to spice up their love life when their friend, Holly, comes over for dinner. Without giving anything away, the working title was, "When We Were Young and Fun," but we casually referred to it as "Threesome" for brevity.
Utilizing my Canon 5D Mark III and primarily the 24-70/2.8L zoom lens, we embraced a very natural look. Unfortunately, the camera doesn't generate frame lines, so we used painter's tape over the rear LCD so I could accurately frame for our final output of 2.35:1. While it's not the perfect solution, it worked out well. I utilized the same Technocolor CineStyle Profile that I used to shoot The Well Connected commercial for The James a month earlier. Having taken that project all the way through post by the time we arrived on set for this one was extremely valuable.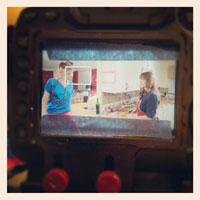 Given the confined space that we were working within, I didn't need many lights. I had a few daylight balanced fluorescent globes for the lone day scene, but my main sources were tungsten. I had a 2K Baby Junior, 1K Baby Baby, 650W Tweenie, Source-4, and my kit of globes, dimmers, and chinese lanterns. When utilized, I often rig those 24″ paper lanterns with 300W clear incandescent globes. In addition to our grip/electric order, we rented Flickersound's speed rail slider that I had recently used to shoot an episode of Tom Holland's Twisted Tales. The system is pretty handy/solid and is a great low-budget alternative to the much pricier mitchell based solutions and those crappy-super-cheap-DSLR ones that are popular online.
One of my favorite scenes in the film is the long take where the couple discuss the possibility of having a threesome with their dinner guest at the four-minute mark. The directors wanted to pay homage to the great scene in Woody Allen's Manhattan (1979 – DP: Gordon Willis, ASC)  where the camera pans back and forth as Diane Keaton and Michael Murphy alternate sides of the room and there is a large light source in the shot. We set up our version of the shot with a chinese lantern on the far right of the frame and decided that it was too forced to include it. Regardless, it was thrilling to have such an important and lengthy scene of the film locked into a single take. As luck would have it, near the start of the best take (#13) the house power lowered for a beat causing the lights to momentarily dim. It is a minor shortcoming, but one that I notice every time and it makes me curse the wiring of the building! We did a few more takes because I immediately brought the technical error to the director's attention, but none matched the quality of #13.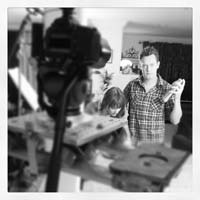 I can't recall the exact circumstances, but after take 11 or 12, I noticed a pink shirt in the closet and asked if we were interested in potentially switching things up. Since continuity wasn't of concern, we collectively weighed the pros and cons. Daniel quickly revealed that it was the shirt that he got married in, so it had some historical significance. Once the rest of us knew the backstory, it seemed like the logical choice.
Another source of inspiration came from P.T. Anderson's underrated classic, "Punch-Drunk Love (2002)." The entire movie is perfectly lensed by Robert Elswit, ASC and the scenes near the beginning at Adam Sandler's sister's house transferred well to our film. The confidence to have long takes and keep the camera static for long periods of time were a big take away. We also like the slow push-ins on Sandler. While anamorphic lenses weren't feasible, we agreed that the 2.35:1 aspect ratio would be best suited for "Holly" as well. Composing for three characters at once is more elegant and we could better manipulate their horizontal spacing in the blocking in a wider format.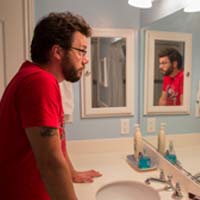 While production was quite fun, we logged some long hours: day 1 = 15.5 hours and day 2 = 18 hours. We could've wrapped earlier on day 2, but Bob and I campaigned to keep the scene of him in the bathroom where he psyches himself up for the night's activities. Yes, the film would've worked fine without it, but we both insisted that we were happy to keep working further into the night. He wanted the added depth to his character and I liked the addition of another location to spice things up visually. As a bonus, the room was already perfectly lit, so I didn't have to bring any of my gear in there! Everyone was a little loopy at that point, but we crossed the finish line in style.
–
Aside from writing and directing, Josh is a professional editor, which helped for a quick turn around. Once picture  locked, we all sat down with Diego Petrusky to get color corrected and we were ready to ship off to festivals a mere 5 weeks after the first day shooting! We are all very happy with how it turned out and I'm optimistic that I'll be posting about more screenings of the film soon. In the meantime, please share your most awkward "3rd wheel" story in the comments section below.
---
You might also like
---
---