Continuing the trend of shifting our focus towards commercials (not because we don't love music videos, but the budgets have been too low lately), The James and I are proud to launch this 1-minute spot for the Los Angeles based company, Well Connected.
Filming took place on June 13th in a very run-and-gun setting, which you don't generally associate with commercials. Given the attitude of the company and the aesthetic that The James wanted, it all fit perfectly together. Much of the shooting took place in less than desirable parts of downtown Los Angeles–late at night–but sometimes you gotta live dangerously (like shooting on active train tracks)!
Everything went swimmingly, with the exception of a parking ticket in Pasadena (seriously, who gives a parking ticket at 4:30am???).
We had to keep our footprint tiny. With this in mind, we utilized 2 of Zack WIlcox's 1′ x 1′ LED Litepanels. They worked in nearly all of the shots in various ways, but mainly as a backlight and key. Even though he wasn't my gaffer on this particular show, he generously rented production a bunch of his other units to round out my gear list. We subrented some Anton Bauer HyTRON 140s to power the 600 LEDs from Stray Angel Films and I couldn't have been happier with the outcome. The batteries were so powerful that I only used 3 of them all night!
We took full advantage of natural light from street lamps and augmented their output slightly with the LEDs. I was able to keep my ISO at or below 1250 for the entire shoot, which was a relief. Most of the shots were wide open on the Canon 24-70/2.8L zoom at a shutter speed of 1/50th. When apparent, the abnormal motion blur was a result of speed changes James implemented in editorial. When we moved into the company's warehouse downtown (the opening of the video), I had the electricity and time to use more than just the 2 Litepanels.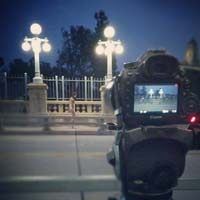 I wanted to highlight the depth of the former office space, which was visually arresting because they are totally gutting the place. The hollowed out walls made for some interesting foreground and background elements and we used a variety of fluorescent bare globes to illuminate the space. There was also a very cool pair of 4′ x 4 bank fluorescent overhead fixtures that were mounted in an upside down "v-shape." We rolled it around into a few different positions that suited us best. Those high angle shots were all lit by the overhead spotlights already present in the space. Finally, an ETC Source-4 created a great pool of light in the background while she navigates the office in profile.
This marked the first occasion that I used the Technicolor Cinestyle Picture setting on my Canon 5D Mk3. I had used it previously on the 7D and  I'm quite pleased with the results taking it through post. We used the 5D's ability to shoot in ALL-I – intraframe compression, but because of all the speed changes and push-ins in the final edit, we had to export a quicktime to ensure frame-accurate results in Final Cut Pro's Color application. There was a very minor image degradation in the transcode, but it was a necessary evil for worry-free color-correction.
I hoped that we could plow through coloring in about two hours, but like every timing session, we had our delays. On paper, this should have been simple (84 total clips on the timeline), but we ended up spending closer to 8 hours in total. Unfortunately, it doesn't seem like Apple will ever spend the time or money upgrading their high maintenance/buggy software, so there will never be an easy color correction gig.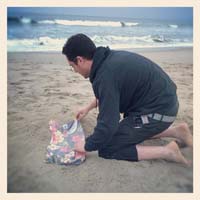 The biggest hurdle came from the fact that the sun slowly raised the sky from pitch black to violet as we were shooting on the Colorado Street bridge in Old Town Pasadena (aka "Suicide Bridge"). The treatment had us at the beach for the sunrise, but I warned James that the weather probably wouldn't be on our side for any dramatic morning sun rays. In the end, June gloom was our greatest ally as nobody would know if we were at the Santa Monica shores at dawn (we arrived closer to 6am). The marine layer also enabled us to get a ton of matching coverage without any grip gear or headaches in post. The only downside to having virtually unlimited time at the beach was that the number of surfers steadily climbed as it got later.
I was back at my house by 9am, which was great because I was able to run down the street to return the batteries to Stray Angel since they were now open for business. There is something strangely humorous about seeing people starting their grind at the end of your very long day.
---
You might also like
---
---