I briefly mentioned this gig back in a post from September, so I won't repeat myself (much), but I'm happy to announce that the entire series is now available for your viewing pleasure on YouTube so watch, like, comment, and subscribe! We are also featured on the FunnyOrDie homepage on this wonderful Pi Day! Be sure to take a gander…
On two sweltering August days in Hollywood (the 15th & 16th), I teamed up with director Jessica Brickman to lens the first 10 episodes of a comedic web series written by the two stars,  Kat Foster and Scott Rogers. Each 2-3 minute episode offers a humorous glimpse into the world of a 20-something couple who just moved in together (aptly titled, "The Newlymovedins"). They say it's best to write what you know, and these two comedic actors are an actual couple and took cues from their personal lives in crafting these tales. I'm quite proud of both the content and the visual style that we established with the series. Many of the episodes play out in symmetrical masters with minimal editing. Jessica did a great job shaping the performances and the chemistry between the three leads is undeniable.
We also got a little love yesterday from Adam Shaftoe on his blog, The Page of Reviews, where he says the series "finds its unique voice in the seemingly mundane details that emerge out of two people deciding to move in together." Adam also weaves in a compliment on my work specifically, "Oh and there's also a near catatonic dog named Loafie who, through some ingenious camera shots, ends up as the series' straight man." I can't deny his point that Loafie attempts to steal the show and we all fell in love with him during production. Adam sums it all up by stating, "Factor in the polished production values and there's really not much this series does wrong."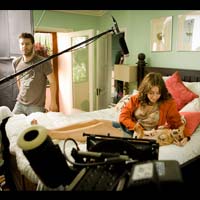 I got involved with the project thanks to the Producer, Matt Miller, with whom I first met on the third feature that I ever worked on in my career back in 2005! I was the 2nd AC/Loader and he was a Production Assistant on the feature film, "The 9 Lives of Mara." I'm not going to pretend that we were good about keeping in touch with each other, but we found ourselves at a filmmaker party in August of 2010 for the Hollyshorts Film Festival and reconnected. We each had some projects playing there and vowed to try and work together again in the near future. Almost a year to the day later, it happened. His production company, Vanishing Angle, did a wonderful job assembling the team.
Production went smoothly aside from a few glitches with our RED One (MX), which I wrote about in the previous entry. Other than that, I was happy with my robust lighting package filled with some 1.2K HMIs, 800W Joker Bugs, and 4′ x 4-bank Kino-Flos. Hopefully the show gains some traction online and we can reassemble the band for another season of fun. Stay tuned!
---
---