This blog entry should be called, "My day at the Fish Tank with Chali 2na and The James," but I have already established a pattern for when I blog about work and that wouldn't jive with the other entries. In any event, that is a perfect summation of the 16 hours that the three of us spent together crafting the "Against the Current" teaser on Monday October 24, 2011. We kept things very casual from a production standpoint (this was self-governing by the fact that it was only The James, me, and some equipment) and moved at a leisurely pace. There were even a few stretches where we just hung out discussing matters other than the video. It was the perfect creative atmosphere and we are very proud of what came from that day of labor.
It is quite rare for me, as the cinematographer, to get much bonding time with the talent on such a short production schedule. If you were to aggregate the number of minutes that I've spent conversing with music video artists from all the videos that I've shot, it would probably be less than 10 minutes. Not because I have no desire to get to know them, but because every moment in our day is so precious that there is hardly a second to even eat or go to the bathroom. I'm thankful that Chali 2na was the artist to break that streak as he is one of the most interesting, affable, and prolific MCs on the planet. Throw in the fact that I've been consistently listening to his baritone voice spitting rhymes as part of the legendary Jurassic 5 and Ozomatli crews for the last 12 years and it was even sweeter.
If you haven't seen the first Kapner/Pearlman/Chali 2na collaboration, then don't hesitate to watch "Step Yo Game Up," which was filmed almost exactly a year before this project. Chali 2na has very ambitious plans in the works that consists of numerous new music and videos for us to consume; he needed something fun to jump start it. After much consideration, we arrived at today's part-music video part-commercial, promotional piece for the upcoming song, album, and tour entitled: "Against The Current."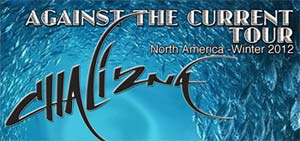 The entire video was shot on location in Riverside County (just east of Los Angeles) in Chali 2na's garage, which is not intended for vehicles but instead houses a top notch recording studio and giant open space for painting, working out, and now shooting videos. He appropriately calls it the "Fish Tank," as every square inch of the walls has been hand painted by the master himself with giant fish to fit the aquatic theme.
The colorful walls and large open spaces were friendly from a production standpoint, and there were even a few nooks in which I could rig and hide my lights. The only exception being the tiny soundproofed recording booth where the performance took place, but even that had a window to use as a source. We utlized the Canon 7D with a variety of glass: Canon 24-70/2.8L, Canon 70-200/2.8L IS, Canon 100m Macro/2.8, Canon 17-55-S/2.8 IS, and the Tokina 11-16/2.8. The workhorse, as usual, was my 24-70L, but every lens had its moment to shine.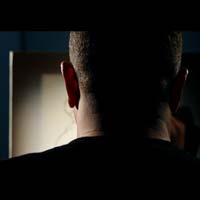 The macro was invaluable for the extreme close ups of Chali 2na's eyes and for that great textured shot of the canvas. I've come close to selling that lens since I have decent macro abilities with the 24-70 and it is the same speed (2.8) as my zooms so it rarely comes out of the bag. However, on the last two music videos (Shattered Like Glass and this one) it has proved its worth and I'll never get rid of it now! It was actually the first lens that I bought after my mom gave me her 35mm Canon EOS Rebel-G SLR in the early 2000's. The kit lens was an optically awful Sigma 24-200/3.8-5,6 that collects dust in my closet because it doesn't work with DSLRs, so nobody was willing to buy it after I upgraded to a 5D in January of 2007. I miss shooting 35mm stills, but I haven't replaced that SLR since it broke soon after I went digital (coincidence?).
To get a sense of the light mood on set, watch this video that Chali 2na uploaded. At the end, you will see a minor equipment fail and the hilarity that ensues. SPOILERS: in order to get the correct height on Chali 2na's chair, we made a platform of full apple boxes and it worked flawlessly…until Chali 2na decided to lean too far back into his recliner and the sand bags failed to provide enough counter balance for the surprise move (I expected Chali 2na to be leaning forward to paint the canvas, not backwards in a B-Boy Stance). In some ways it was a happy accident as the resulting fall shows a little insight into his character and it gave us all a huge laugh near the end of an exhausting day.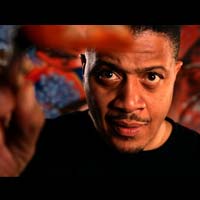 We began our day with the garage door opening sequence since we wanted the greatest amount of daylight possible to blow out our highlights outside. Our first shot wasn't until about 2:30pm and we battled inclement weather the entire day and night. Thankfully it didn't take too long for the sun to stay out of the clouds long enough for a full take. For those of you familiar with The James's work, this is a minor stylistic callback to our video for We Are the Arsenal (skip ahead to the 2:33 mark and wait until 2:53 for the second half of it). In the color correction suite, we had to push the highlights a little more to get them closer to white, but most of the effect was in camera thanks to the extreme differences in light levels.
The only complicated set-ups in the video were the two wide shots in the Fish Tank. The first of those shots were from behind Chali 2na as he looks at the blank canvas at the opening of the video. We wanted the canvas to really pop, so I slammed it with a 750W ETC Source 4 LEKO and painstakingly got the blades to fit the canvas perfectly (that was the intention at least). The rest of the lighting involved my usual arsenal of several flags, frames (both 2'x3′ and 4'x4′ skinned with either Opal or 251) and Fresnels (1K, 650W, & 300W).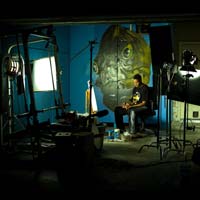 The reverse could've been a beast, but the location was kind to me. There was just enough room on the left side of frame to hide a 1K PAR can and a 2'x3′ Gel frame. That back wall with the fish painted on it is actually what separates the main garage from the recording studio. There is about 2 feet of clearance before the roof of the garage kicks in, so I clamped a 650W Fresnel with 216 diffusion on the barn doors for a toppy back light. Finally, on the right side of frame, we opened the garage door to give me enough space to place the Source 4 through a 4'x4′ frame of Opal for another backy-sidey source on Chali 2na as he painted.
In our brainstorming sessions, I tossed out the possibility of paying homage to one of my favorite videos of all time, by one of my favorite hip-hop artists, The Pharcyde. If you haven't seen this classic Spike Jonze clip, then I highly recommend watching it in its entirety. The specific section comes around the 3 minute mark where they used a thin piece of glass as a canvas. Given The James's introspective treatment, this seemed like the most effective way visually to show Chali 2na's process with a camera. We purchased a thin (3/32″) 18″x36″ piece of glass from a large chain hardware store. We then rigged it in front of Chali 2na and had him throw some oil paint on it. I was a little stressed that the pressure of the brush strokes could be enough to shatter the flimsy grade glass, but we made it through safely. Due to the rigors of transportation, we didn't want to have glass in the car again (we damaged a few pieces on our way there) so I'm sad to report that this unique collector's item is in a landfill and won't be available on eBay…
Thanks for reading and let me know what your favorite music videos of all-time are in the comments section below!
---
You might also like
---
---