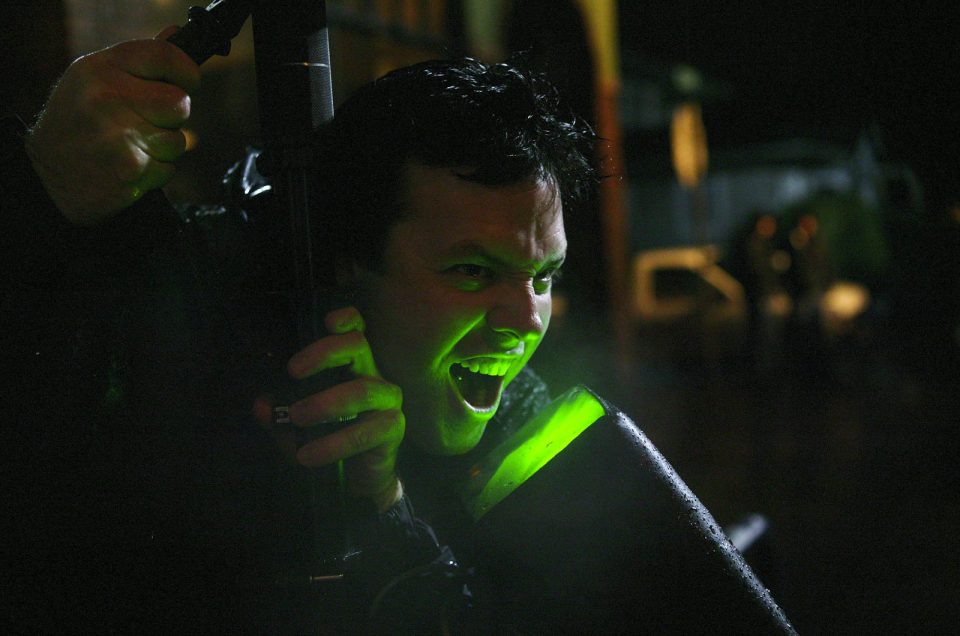 It takes me so long to craft these blog posts, that this isn't news anymore, but I got inspired to start writing this Friday afternoon after seeing the press release in Variety. BJ McDonnell is officially the director for the third installment of Adam Green's "Hatchet." It's one thing to see your good friend get a huge career break and it is another experience seeing such an event happen to somebody that helped make your own career possible.
When I moved to Los Angeles, I only had a few contacts and fewer leads for jobs. The summer of 2003 was life changing: I served as clapper/loader on a $1M dollar feature and realized that most of the set etiquette and techniques taught in film school were pretty much wrong. Sure, the technical stuff is generally correct, but I couldn't believe how many dumb things we did in school that don't occur in the real world. All of the slates at school bore the warning: "DRY ERASE ONLY – DO NOT USE SHARPIES." What a load of crap. Sharpies are your friend. They don't wipe off easily so they are ideal for the date, show title, etc. and when you need to make changes, you simply scribble some dry erase over it and wipe away. Magic.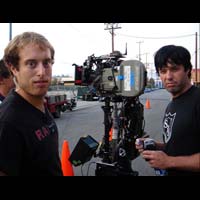 The crazy thing is that we didn't even use dry erase markers in school. We tore 1″ camera tape into little pieces and wrote numbers and letters on them. The back of the slate looked like a psychopath's notepad. That's not the greatest example in the world, but working with up and coming cinematographer Eric Steelberg was a great experience. "The Hand Job" was his first feature and he would later go on to make such memorable films as "Juno" and "(500) Days of Summer." Before heading back to Evanston for my senior year, I worked on another film with Eric, a 35mm short called "Man With Two Lives." Even after that time together that previous summer, there wasn't work waiting for me with Eric when I returned to LA.
Thankfully a friend from Chicago, James West, was shooting his AFI thesis film in October and I was his loader. I timed it out perfectly and started the gig right when I arrived in Sherman Oaks as a permanent SoCal resident. During his shoot, fellow AFI student, Leah Striker, asked me to crew her upcoming thesis as well and I agreed. Little did I know that her short would have such a great effect on my post-graduate life. Ironically entitled, "Guilt," on our penultimate day of production we had a day player come in for steadicam. BJ McDonnell was on his day off from the feature film, "Brothers In Arms," yet he sacrificed rest to help out some grad students.
This is text book BJ. The guy is a work horse. I've never witnessed a better work ethic or attitude in my life. You really can't say enough good things about him. Not only is he extremely talented, but a joy to be around. It is no surprise that he rocketed from low budget indies to blockbusters in the blink of the eye.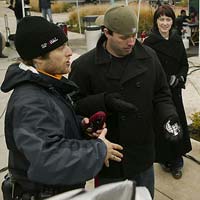 Near the end of our first day together, I did something that I normally wouldn't do: I asked BJ straight up if he knew of any gigs coming up. I was working for free and desperately needed some real work before the year ended. Granted this happened 7 years ago, but I seem to recall him pulling out his cell phone and saying, "you know, the job I'm on may actually need a 2nd." Seeing as though we had only spent a few hours together, I had low expectations, but later that night I got a call from the film's cinematographer, Guy Livneh, asking me to come into work the next day.
I was ecstatic.
BJ got me my first official paid job in the film industry and it was on a feature film with 14 days remaining on the schedule! Not only that, but it was my first time working with multiple cameras: Chanukah came early in December of 2004.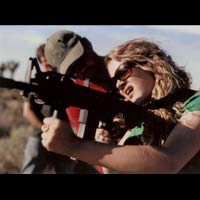 The buzzkill quickly came when I called Leah to share the great news. Instead of being happy for me that I secured a paid gig after busting ass for her for 6 days for only copy, credit, and meals, she guilt-tripped me for leaving with one day left. Looking back, it is funny to recall how happy I was to be on a grueling feature that paid a flat rate of $100/day up at Sable Ranch. It was a really tough show filled with long hours and cold desert nights, but we persevered. Aside from forming a great friendship with BJ that continues to this day, I exponentially increased my network with amazing camera folks like Guy, Tony Matulic (B-Camera 1st AC), and Ethan McDonald (A-Camera 2nd AC). The best aspect of a multicamera show is that your contacts grow that much faster and I went on to work with all three of those guys for a long stretch afterwards!
Over the years of collaborating, BJ and I traveled to Grand Bahama Island to swim with dolphins on Guy Livneh's "Eye of The Dolphin," dealt with Snoop Dogg's tardiness on "Snoop Dogg's Hood of Horror" with epic games of Scrabble on our Palm Treos (one day Snoop was 6 hours late – we didn't get a single shot off before lunch as a result), and we shot the 16mm film that I had left over from my college thesis film in the form of a Toyota FJ Cruiser spec commercial and a silent improvised short film with guns, joshua trees, and Carrera sunglasses (which were ironically lost in the void of the FJ years later one Halloween). Hopefully those videos will get some love on YouTube as rabid horror fans search for BJ's previous directorial work. As amazing as those experiences were, none of them compared to the grand adventure of making Hatchet.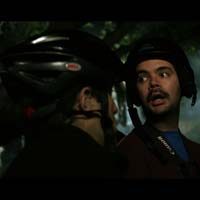 Hatchet was one of those experiences that happen a handful of times in a career (if that). It was the perfect storm of the right crew, the right cast, the right script, and a mix of enough adversity and enough amazingly fun times that nobody on that cast and crew will ever forget those weeks in Sable Ranch (yes, the same location of our first feature together). Then again, maybe my experience was heightened disproportionally to all of those surrounding me. I had never felt the shock to one's system that working a month straight at night does. That first week was particularly miserable because I had my first (and thankfully only) battle with insomnia and couldn't find sleep during the day. It was only my fourth career feature, so I was still quite green (while the others were seasoned veterans). I was also falling deeply in love with my girlfriend at the time, so emotions were coursing through my body at a much higher rate than normal. Regardless of confounding variables, Hatchet will always have a sacred place in my heart.
The bonds of the Hatchet Crew were so strong that we regularly gathered for drinks and dinners for a long stretch of time after production (something that hasn't been replicated on any other show). We even re-assembled the core group five months later for Green's second feature, a co-directorial effort with Hatchet's leading man, Joel David Moore, in Portland, Oregon called "Spiral." Sadly, our film loader had to be a local hire, but the remainder of Hatchet's A-camera crew stayed intact with cinematographer Will Barratt, operator/steadicam operator BJ McDonnell, 1st AC Lewis Fowler, and myself banging on the slate as the 2nd AC. We collectively had such an insane amount of fun working together that life would've been great if we could have stayed working together indefinitely. Unfortunately, December of 2005 was the last time that all four of us shared a set. There were instances where 3 of us gathered, but never the full quartet.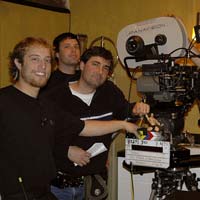 There was a great sentiment to get the band back together for Hatchet 2. Unfortunately, in the years that elapsed, I had stopped working as a camera assistant. When it came time to crew up for the January 2010 shoot, the only vacancy was my previous position: A-Camera 2nd AC. Eric Leach had bumped up from his role as B-Camera operator to shoot 2nd Unit, which was the spot that I hoped to fill (later in the year I would shoot 2nd Unit for Will on "Chillerama"). It was hard not being there with everybody again, but I couldn't step back and do another feature as a 2nd. When Joel David Moore and I visited set one afternoon, it was a strange experience. Instead of battling the elements and short spring nights like we did in May of 2005, an entire swamp was constructed in the shelter of a Hollywood sound stage. It was kind of a mind fuck to see Victor Crowley's stomping grounds transported from Sable Ranch.
With production still a few months away, crew positions aren't on the top of production's list of concerns. In any event, I'm keeping my fingers crossed that the band can finally get back together for the first time in six years. After all, with BJ's promotion to director, there is now a void at the camera operator position…
If you are asking yourself, "What's the moral of the story?" I'd say that you never know what one day on a job can do to your career or that of those surrounding you. It's one of the craziest elements to freelancing and also one of the reasons that it is so hard to ever turn down work regardless of the rate or quality of script. Go ahead and share that one day on set that changed everything for you moving forward in the comments section below.
And seriously, stay out of the swamp, bitches.
---
You might also like
---
---