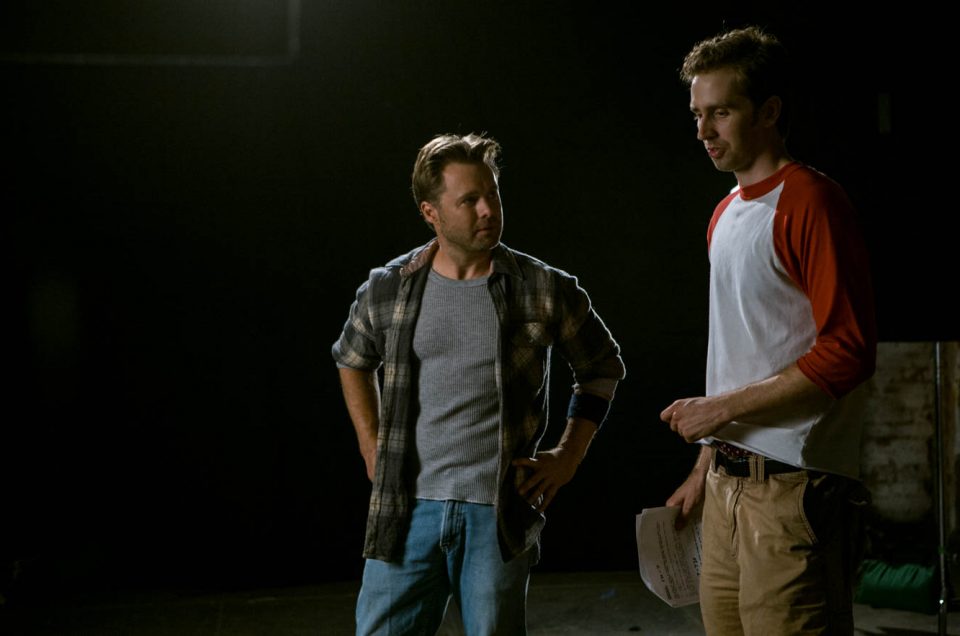 As I mentioned in a recent post, I spent Labor Day weekend shooting a thrash metal music video for director Davey Vorhes. Much like our first music video collaboration, the shoot consisted of two-12 hour days shooting in Los Angels. Century Media Recording artist, Warbringer, is a head banging quintet from Ventura, California. The single, 'Shattered Like Glass,' appears on their newly released (9/27) LP entitled 'Worlds Torn Asunder.'
Due to the last minute nature of the job and because of our hectic schedules, Davey and I weren't able to do a tech scout. Thankfully our producer, Tyler Condon, negotiated a 3-ton truck despite our limited budget. Having that truck full of equipment proved invaluable given the limited amount of prep that we had. That being said, part of me always feels wasteful when I have equipment sitting around not being utilized. Then again, just because you have 10 types of lights sitting on a truck, it doesn't mean that the scene wouldn't be most effectively lit with just one perfectly placed unit. Camera side, we rented a Canon 5D mark ii from the kind folks at Stray Angel Films and primarily utilized my Canon L-series zooms (24-70/2.8 & 70-200/2.8IS) with occasional extreme close-ups with my Canon 100mm/2.8 macro. I was almost exclusively on sticks and occasionally used a doorway dolly for a little movement here and there. Davey wanted to keep a little distance from the stereotypically jarring hand-held aesthetic found in many metal videos.
Davey operated B-camera handheld with his hacked Panasonic GH1 (which allows recording at a higher bitrate – 40MBps instead of 17MBps) and a Micro 4/3rds to Nikon adaptor. His two old-school Nikon F-mount lenses, 24mm/2.8 and 50mm/1.4, got the job done. I will admit that I was skeptical when I saw it played back on set in a 60i wrapper. However, after Davey performed a reverse telecine on the native 60i footage, I must say that I'm quite impressed with the camera's image. With a little color correction, the footage seamlessly blended into the edit. The main difference between the two cameras were in the black levels and contrast ratios. This is likely a because the Nikon glass is much older and we didn't have hoods to help shade the numerous surrounding hard lights from washing out the image like I have on all of my lenses. One of these days, I'll shoot a test with both cameras using the same lenses to see if I'd need to add a ton of contrast on the luminance curve in color correction to the GH1 footage to match the 5D's.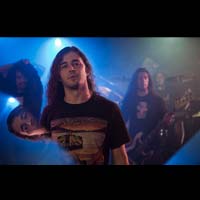 On September 4th, we shot the performance section of the video at Monk Space. This marked my third visit to the Koreatown location. The first time was with Davey on the Bonded By Blood video and the second was with Chali 2na and The James. This performance gave me the seemingly rare opportunity to throw a bunch of party gels on my array of tungsten units. We hung three 1K Baby-Babies from the overhead grid as backlights and put two 650W Tweenies on stands as sidelights. There was a 750W ETC Source 4 LEKO on the back left of the stage up high (it's in many of the shots) and another Source 4 on the ground to the drummer's left pointed up at about a 50° angle and slightly lamp right towards camera. There are also a pair of 300W Betweenies cross lighting the drummer (Carlos Cruz) and one final Betweenie to give a little life to guitarist Adam Carroll's black speaker cabinet (on the frame right side of master).
Davey wanted to keep things in the purple and blue world, which are colors that I always appreciate while at concerts. I had hoped for a little yellow for some color contrast, but we kept a limited palette this go around. The backlight and side light did more than a sufficient job illuminating the group, but I positioned a soft fill light (650W Tweenie bounced into a 4'x4′ bead board) on the camera right side of the lead singer (John Kevill) for the master of the full band for some frontal fill and to give him an eye light. The overall lighting remained the same for the coverage, but I danced the soft light around on my close ups to give a little fill/eye light. In order to hide the brick walls of the studio, my Key Grip, Hunter Rogers, hung 12'x12′ and 20'x20′ solids on goal posts. We floated about five 4'x4′ floppies to fill in gaps in the coverage.
The trickiest part of the singles on each band member was positioning the numerous mirrors into interesting angles. Davey's treatment called for mirrors surrounding the set. Our production designer, Vicky Chan, did a great job traditionally rigging a bunch of 1'x1′ mirrors to c-stands, but she also cleverly taped them to the adjustable gooseneck shades of several floor lamps. These clusters of  malleable mirrors gave us many options and made for some interesting shots. She even used several microphone stands to increase the sheer volume of mirrors without stealing too many of my c-stands. Ideally, we would've had more time for her to get the space picture ready, but given the limited amount of set-up time, there are an impressive number of mirrors on camera. There are few instances in filmmaking where a piece wouldn't benefit from allotting more time to production design and lighting design. This was no exception. After a few takes on each band member, we swapped out the healthy mirrors for some shattered ones. Including set-up time, the performance took about 8 hours of our day. We had hoped to be done by lunch, but since the narrative pieces at Monk Space were all against the already hung black background, we moved quickly the rest of the day and caught up.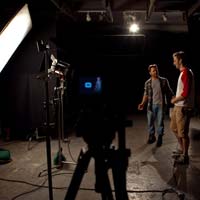 Once we cleared out the band's gear and lost the 1′ wooden risers that slightly elevated them (we positioned them in a horse-shoe arrangement), we could easily spread out and get the remaining shots thanks to the seemingly expansive open space. I kept the drummer's back light rigged and staged everything around that point to keep things moving quickly. A 1K Baby Baby lived on the camera left side and a Source 4 worked on the right side serving as strong backlights. Both went through a layer of 216 diffusion and I danced around another 1K Baby Baby into a 4'x4′ bounce card for fill. One of my favorite shots of the video utilizes all of those units, but Davey and I wanted to add another element to the lighting to make it stand out from the rest of the video. I positioned a Source 4 about 15′ from Don and dialed the blades in to a narrow slit over his eyes creating sort of a sunglasses tan over his eyes. We dialed the intensity way down to about 20% on a hand squeezer and positioned the bounce light on the camera left side. It's quite subtle, but I like it.
We spent the following day in a historic home in Koreatown to wrap up the remainder of the narrative elements. The wonderful white wooden architectural beams added some very cool vibes to the video. To maximize efficiency, we stuck with tungsten units and cooled the camera's white balance down around 2900° Kelvin to help sell the moonlight feel that Davey wanted. We rigged a 1K Baby Baby to one of the walls with 1/2 CTB and a 650W Tweenie with 1/2 CTB on the perpendicular wall as our primary back and sidelights. There's another Tweenie (1/2 CTB) spicing up the background, a 650W Tweenie shooting up the stairwell for a white reference, and a 300W Betweenie giving a little life to the background of the first shot of the film on the frame left side. Despite keeping the wattage and number of units to a minimum up in the 3rd floor attic, it got suffocatingly hot. According to the Weather Channel's website, the day's high was 92°F. The humidity was brutal and the fact that we had to block out the light coming from the windows meant that our air circulation was poor. While tension got high on occasion, the small crew kept a good attitude as we powered through a full day.
Having a 9am call time enabled us to get the final scene with actual nighttime out the bedroom window. Thankfully there were some interesting elements out that window that were lit up for us to utilize. I particularly appreciate a real world element in a shoot that appeared like a studio show (because it mainly was). My favorite aspect of location work is getting bonus production design like that for free. You can't tell, but the golden arches of McDonald's are blasting through that window.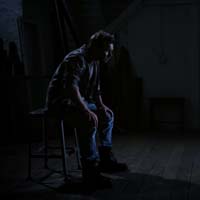 To get the video done in time for the September 27th record release, Davey had a limited amount of time for editorial. On September 15th, a mere ten days after wrap, Davey sent us a very polished rough cut. Despite the rush, the edit didn't change all that much from what you see now. On the evening of the 20th, Davey and I set looks and I completed the color correction the following day. After a few tweaks back and forth, we were ready for the online. The coloring was relatively straightforward: we wanted to cool the narrative footage, desaturate the performance a little, and match the GH1 to the 5D. The biggest challenge for coloring music videos is always the number of cuts. There are 384 edits in the video. Thankfully I could copy and paste most of our grades, but there were a few moments where matching the skin tones took extra care.
Be sure to watch 'Shattered Like Glass' in HD and I'd love to hear your thoughts in the comments below. If you are interested in some more behind the scenes, then check out the video made by band members John Laux and Carlos Cruz. I make a few cameos…
---
You might also like
---
---