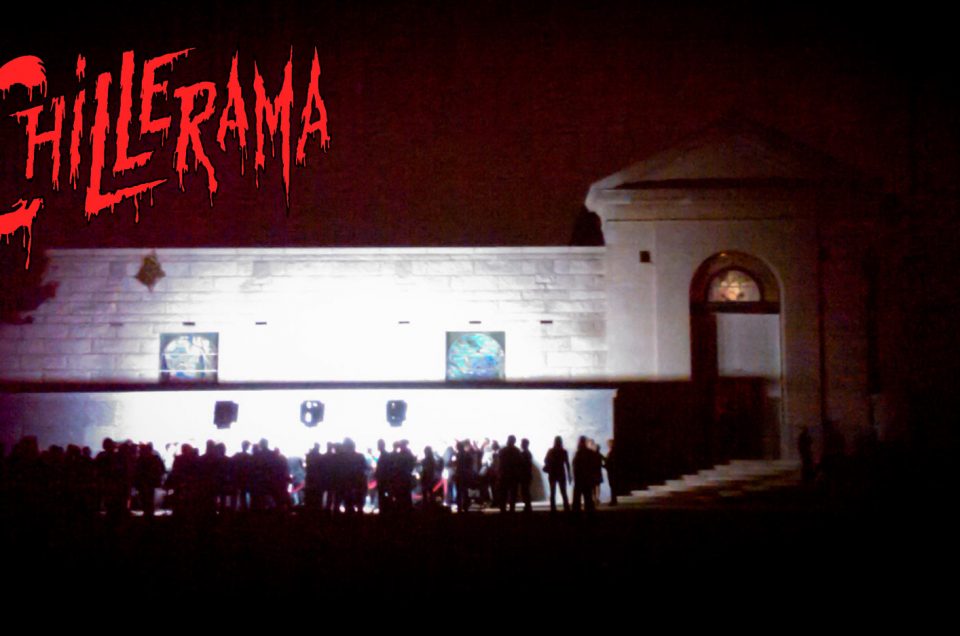 I desperately need a new cell phone (can you say Nexus Prime or iPhone5?). Not only is my Blackberry Storm2 a terrible phone, but its camera is an embarrassment. I took that picture on your left from a distance to give some perspective not shown by typical red carpet photos. The lit up mausoleum was a site to be seen and it certainly made this evening feel different from my numerous visits to Cinespia in the past. In the last few week, there's been some great media coverage from the premiere of "Chillerama" on September 15th. I've gone through a bunch of the articles and compiled this little highlight reel. Enjoy.
Our local ABC affiliate KABC-7 (yeah, that network owned by Disney) got their hands surprisingly dirty with this article/video (below)
Evan Dickson at BloodyDusgusting got some great interviews on the red carpet with a bunch of the cast/crew.
BD: Before you go, is Chillerama MPAA rated? 

JoeLynch: There is going to be a version which is MPAA approved. One thing that I can say, and this is a direct quote from the MPAA, I love them very much and they're great people, but the direct quote is "Too much sh*tting. There's just too much sh*tting. People were leaving the room". To me, that's a win-win!

BD: You should use that as the pull-quote. 

JoeLynch: I want that on the poster, "there's just too much sh*tting. This picture is rated R for extreme gore, sexual situations and extreme sh*tting". Honestly, they've been very gentle with this movie because they kind of see the humor in it. Except for the sh*tting.

BD: And you play Frankenstein tonight in Adam Green's segment right?

KaneHodder: Yes and he made me do something else I've never done before in this movie. Dance! Can you imagine me dancing? Not pretty.

BD: You're a physical guy. If you can whack a girl in a sleeping bag against a tree I imagine you can dance a little. 

KaneHodder: Maybe.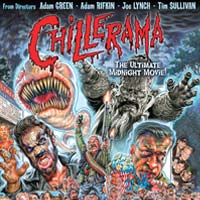 The permalink on this blog entry says it all: http://bizarrocentral.com/2011/09/17/now-thats-fucking-entertainment-introducing-chillerama-a-bizarro-drive-in-party-movie-for-the-ages/ I'll admit that I don't know much about SEO, but I always thought permalinks are supposed to be concise. Kudos to John for that awesome post title! In any event, he wants you to see the movie:
Last Thursday night, I had the transcendently hilarious and revolting experience of watching Chillerama. It's a new movie blazing its road show across the nation, one unsuspecting theater at a time. If you're the kind of freak I'm addressing here, then you want to gather with as many of your freak friends as you can, and spend an evening enjoying the kind of spectacular cinematic event they just don't make any more.
The primarily positive review by Pestilence on Dread-Central sums up the experience pretty well at the conclusion of his 3 1/2 out of 5 bloody knives review of the film.
It's not perfect by any means, but as a piece of cinematic subversion Chillerama is right on the mark – something that has to be seen to be believed. Interestingly, for the most part it succeeds as a parody or loving lampoonery of the type of grindhouse flicks that populated the golden era of the drive-in rather than the direct emulation it purports to be: a tonal criticism that may find those expecting films quite literally akin to those from the era being sorely disappointed. For complete enjoyment Chillerama also demands a certain frame of mind (read: intoxicated), and the appeal will most certainly be lost on many. Solo viewings will likely prove underwhelming, but a wild success on the party circuit is absolutely assured. For Rifkin, Sullivan, Green and Lynch, then, it's Mission Accomplished!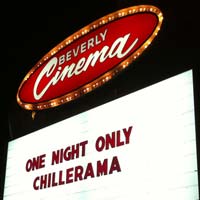 The last point is imperative: this isn't one of those movies that you should watch curled up under a blanket by yourself. It's a party and it is best served with a good group of a friends. The communal experience of gathering at Hollywood Forever was an amazing time that will be hard to replicate. The upcoming rash of midnight screenings will certainly come very close and I hope there are more opportunities for Angelenos to catch the film (can you say New Beverly?). I'll never forget the first time that I watched Todd Solondz's brilliantly dark comedy, "Happiness." It was the summer of 1999 with a big group of people who had already seen it and they were laughing out loud from the first few frames of the film until the last. Their appreciation for the film assured me that I wasn't a terrible human being for laughing at the fucked up situations portrayed on screen. Flash forward a year later when my parents asked if they could borrow my DVD copy of it to watch one evening. It was kind of an awkward moment. I couldn't tell them not to watch it, because I knew that would make them want to see it more. With my back against the wall, I said something along the lines of, "I don't think you'll like it, but be my guest."
They watched it.
Our relationship has never been the same.
Just kidding. On the bright side, teenagers who purchase "Chillerama" on Blu-ray/DVD on November 29th can have a similarly strange interaction with their parents…
---
You might also like
---
---