There's a long version of this story and a short one. Since I haven't blogged in a while, I'm gonna hit you with the longer version… Back in October of 2006, I aggressively scoured the internet to fill a newly formed void in my schedule. I had a gig push and I wanted to stay busy so I did the only thing a hungry filmmaker could do: work the craigslist angle. Don't get me wrong, I was experienced enough to know that most jobs found on Craigslist or Mandy are almost universally awful, but every once in a while, great connections can be forged.
This turned out to be the polar opposite of that music video I worked on one summer weekend as film loader where we did back-to-back 18 hour days with a 6-hour turnaround and lots of slow motion on short ends (a recipe for disaster). Writing all of that makes it sound like hyperbole or an exaggeration, but it was genuinely an awful experience. I got completely worked and didn't get a penny from production (despite going through several rolls of my camera tape) and never worked with any of the crew again despite their assuring me that they would call.
I put my distrust of internet found jobs on hold and applied away. When I got a response, my first reaction to the writer/director's script was, "wow, this is actually good."
While that may sound like a backhanded complement, it is a full-fledged compliment. The script for "The Grass is Greener" is truly good. What surprised me most was that such a strong script was seeking crew within the infamous realm of Craigslist. Keep in mind that this is the same site that regularly hosts postings for crew to work for free for "name talent" and "high profile directors." You have to be greener than Gumby to believe for a minute that anybody with major influence and cashflow would search for their next collaborator on the same site with Casual Encounters and Missed Connections on it. Don't get me wrong, I love Craigslist. Where else can you find thousand of dollars worth of furniture for a hundred bucks or people looking for unique jogging partners? In all seriousness though, I would've guessed that a script of this quality would be on the desks of network executives ready for full-fledged pilot production.
Randy Bobbitt was unlike anybody else I had met on Craigslist. He had produced some impressive shorts as a writer/director and was looking for a creative partner for his upcoming pilot. He was in something of a similar place as I was: a project of his had just fallen through and he was eager to shoot something. The timing worked out, we got along, and a few weeks after meeting, we shot a pilot on the HVX-200 (in SD mode to tape) in Los Feliz.
There are many stories that I could share from our experience (and eventually I'll get around to them), but the final outcome was a quality television pilot of which we are all proud. Almost a year later (August '07), "The Grass is Greener" joined 28 other independent pilots as part of the 3rd Annual New York Television Festival. It was my first major festival acceptance and I wanted nothing more than to attend the screenings, but it was the same weekend as my grandfather's birthday celebration cruise and I couldn't turn my back on a large family gathering.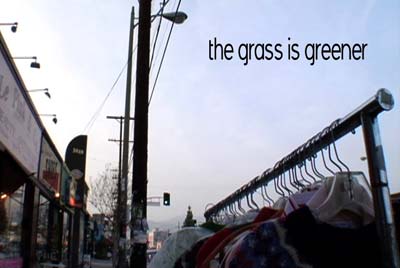 Four years later, I have another opportunity to head to the Big Apple for a pilot crafted by Randy Bobbitt and myself. Our second pilot collaboration has yielded yet another invitation to the New York Television Festival. We screen our nonscripted docu-drama, which is my new favorite euphemism for reality show at the end of September. The schedule for the 7th incarnation of the festival doesn't arrive until August 31st, but you can watch our sizzle reel right now on YouTube.
Not that our production of "The Grass is Greener" was large scale by any stretch, but "Heavy Metal Nanny," became an exercise in minimalism. Our entire crew consisted of Randy (who also operated B-camera), our sound man, Carlton Diggs, and me. I had very minimal lighting equipment (a few Kenos and PAR cans) and we shot with two HVX-200s (this time utilizing P2 cards for HD resolution, thankfully). The three principal photography days took place on November 18-20th around Eagle Rock, which was almost exactly two years after we shot our first pilot.
Due to a scheduling conflict, I couldn't do the final day (I had to prep/shoot Joel David Moore's acclaimed short film, "Hours Before"). JP Riley covered me that day and I was available again for pick-ups on January 28th, 2010. Editorial took an extraordinarily long time because Randy split his focus between the pilot, a full time gig editing movie trailers, and continuing to write his own projects. By the time we had a strong cut, we narrowly missed the deadline for last year's NYTVF. Thankfully, we have this opportunity to screen in New York.
---
---