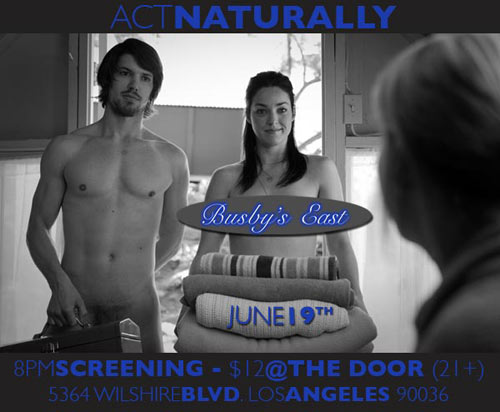 Since I started writing this, some big news came up: we now have a screening at Busby's East (5364 Wilshire Blvd. Los Angeles, CA 90036) on June 19th! There will be a $12 cover at the door. Show starts at 8pm and we will have a q&a with cast/crew following the film. Fear not, the bar will be serving drinks and food will be available, so it should be a great time (for those of you without kids – it's 21 plus). Happy Father's Day either way and we hope to see you there!
Okay, back to the original text: I can't tell you how many times I get emails from Facebook with comments from our "Act Naturally," fan page with people asking, "when will this be available on DVD?" I promise you all that we are eager to get this film into your homes and lives, but love takes time. That being said, we are getting close. On May 25th, the first of multiple feature length audio commentaries were recorded. This featured most of the actors (Katie L. Hall – Leah Collins, Liz Lytle – Charlie Tillerman, Josh McVaney – Trevor Wilson, Courtney Abbott – Lauren Chambers, & Sadie Alexandru – Natalie Cloonan) along with JP RIley (writer/director/producer/editor). We are still waiting for an exact date, but we are planning to have a big above-the-line commentary track featuring JP Riley, Christine Sheaks (producer), Katie L. Hall (writer/star/producer/editor), and myself (cinematographer/producer/editor). Yeah, we wore a lot of hats on this film, but that is indie filmmaking.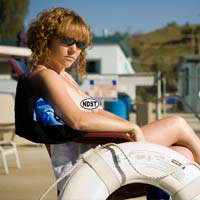 We are all proud of the film and have lots of stories to share regarding the arduous production of "Act Naturally." To get my mind thinking about our process again, I've made this companion piece. Since we'll be focusing our energy trying to be funny–much like the master commentators of View Askew (Kevin Smith, Scott Mosier, etc.)–I'm guessing that I won't have many opportunities to get into the nitty gritty technical adventures in the film. There is also quite a lot of backstory that would be neglected on the DVD. Enjoy.
JP and I first collaborated while students at Northwestern University when I served as one of his camera operators for a live concert shoot for the Verve Pipe back on March 15, 2003. We share many friends, but didn't really keep in touch after graduation very well since he stayed in Chicago to work the commercial and music video scene while I immediately left for Los Angeles.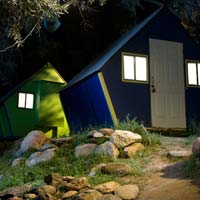 During a fateful weekend in April of 2008, JP and his girlfriend threw a party for one of our mutual friends in Hollywood and we ended up spending a good amount of time talking shop and catching up. Two months later I got a call from him asking if I'd be available to shoot his feature film debut. He was going to finally pursue (and predominantly self-finance) this passion project of his, after slaving away for clients in Chicago. I said yes immediately, as I was looking forward to working with him again after all of those years.
He then pitched me the idea.
While I loved the story, I wasn't sure how comfortable I was with nudism.
That is how most approached the film initially. Great script, but I'm not sure if I'm cool with the whole "naked thing."
It's strange writing this now considering how many days I've spent not only working in the buff, but also enjoying our textile-free days off while on location. Like most people, I'm not totally comfortable with my physical appearance. I've struggled with maintaining my weight my whole life, and yes, I was teased for being "fat" when I was a kid. I put it in quotes because I was never that obese, but that didn't seem to matter. I've never felt at ease in locker rooms and although I love the rush that comes with skinny dipping, I attempted to limit said activity to places with very little ambient light (or when alcohol propelled us into Lake Michigan/the Evanston lakefill in college).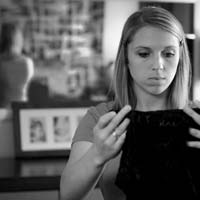 Nevertheless, I took my apprehension with me to Liz Lytle's house as we sat down for our first table read on July 11, 2008. If our collective enjoyment and laughter were any indication, then we had a winner. I was officially on board. Even with an excellent screenplay from Katie L. Hall, Annie Levine, J.P. Riley, & Brock Wilbur, it wasn't easy finding a cast, crew, and location for a project with our themes. We decided to shoot the beginning 10 pages of the film first, which required only 2 actors and minimal equipment with the hopes that it would extend our talent pool. Finding great actors who were cool with doing nudity at paltry SAG Ultra Low rates (the good folks in the actor's union have set a precedent for extra compensation when certain body parts are exposed) was a feat! We already had our two leads cast (who were long time friends/collaborators/classmates with JP and myself) and we shot those first megabytes of footage on July 22, 2008 at Liz's house. The scene features one of my favorite quotes of the entire film, "your dad died. He's dead."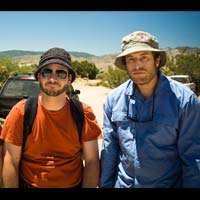 Utilizing JP's personally owned Panasonic HVX-200 (which I had used on many projects like "Who Shot Mamba?," "Political Disasters," and the web series for abc.com, Voicemail – Season 2) and the Letus35 Extreme, we were covered camera-side. Leading up to the shoot, we selected (or should I say bid via eBay on) various lenses to supplement the Pentax mounts that JP had already owned. Our best purchase had to be the HELIOS-40 lens F1.5/85mm 85 M39, which is spectacular and made us second guess our commitment to the fact that comedy is best played in wide shots. We utilized the indiRAILSpro XV sm handheld rig made by indisystem along with a very ghetto matte box, but the results were pretty nice. We later purchased the Zacuto 11 lbs. lunchbox for better balance on my shoulder (the thing is crazy front heavy otherwise).
After two and a half days with our estranged half-sisters in apartments and cars, we reconvened the following Friday (August 1st) with Kat Namey to shoot some "Bear Lake" footage at the beautiful Deep Creek Hot Springs. The trip was great, although we almost lost our director to heat stroke (that hike isn't so pleasant in the dead of summer).
To get myself mentally prepared for the approaching three week stay at a naturist resort, I took a trip with my girlfriend to a potential location to ease myself into the lifestyle. I was kind of shocked at how easy it is to be in the buff full-time (certainly the heat of Palm Springs in August encouraged us to wear less). The amazing thing about these places is that you feel "normal" when nude because that is what everyone else is wearing. When you attend an ugly sweater party (and don't pretend that you haven't), you feel right at home among the atrocious garbs. Conversely, if you walked into a black tie event in shorts, a Hawaiian shirt, and flip flops, then you're gonna feel out of place.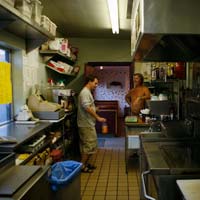 On August 27th, we scouted Olive Dell Ranch (ODR) in Colton, California. The owners, Bobby and Becki Kilborn, were excited to host us as long as we were willing to shoot in the upcoming off season. As one would imagine, the heat of summer is the best time to be nude, whereas the chilly winter can make clothing a necessity for survival. Aside from friendly residents, the resort features an assortment of colorful birdhouse looking cabins. While they aren't the most exciting prospects from a cinematography aspect, they offer a quirky element to the production design. Bobby also kindly acknowledged the safety risks involved with filmmaking in the buff, so we were permitted to remain clothed during work hours (most resorts wouldn't budge on this issue). We unanimously decided to move forward with shooting at ODR and JP started cutting the scenes already in the can.
---
You might also like
---
---