James Kapner and I have been trying to collaborate with Chali 2na for some time now. Things fell through at the last minute last summer for his single, "Graff Time", but we finally made it happen on one long Autumn Los Angeles day this October. Coinciding with today's release of the video, is an excellent story on OKPlayer's website about Chali 2na. Do check it out.
After shooting our last video together, "Tonight", on the RED, James and I want to make a habit of it (it was his first experience). This time we armed ourselves with Zeiss SuperSpeeds and the upgraded MX sensor (build 30, RC42). I wasn't unhappy with the performance of the RED primes, but I have an affinity for the feel of the Speeds on the RED.
This marked my first encounter with the new sensor and I'm definitely a convert! Initially, I wasn't blown away by the improved ISO, but to be fair I was lighting small sets (they claim it to be 800ASA, but I found it to be closer to 500 in tungsten lighting). A few weeks later, I shot 2nd unit on "Chillerama" where I alternated between MX and non-MX bodies while lighting night exteriors without enough Maxi Brutes and 6Ks, and really appreciated the improvements. Seeing the two cameras next to each other clearly broadcast the suppressed noise level in the blacks. Now that I've taken my MX footage all the way through post, I'm even more pleased with what it does! As much as I love the sensor, I'm not going to be as vigilant with production about getting it as I am about having a 7″ Pro LCD. I genuinely can't use the 5″ anymore…it's a joke.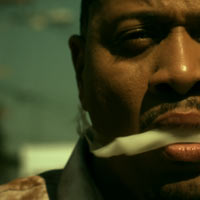 I'm proud to say that this marks the first time that James has ever shot a video in one day. Was it a normal day? Haha, far from it. We had anticipated a marathon, but it wasn't feasible considering Chali had to catch a flight to Sao Paulo for a concert the following morning. As disappointed as our crew was to not work for 20-plus hours (music videos don't offer golden time very often these days), we got sufficient material in the allotted time and used almost all of our footage.
Aside from an altercation with the Los Angeles Police Department (this will be a blog entry later) where James, Cameron S., and I had shotguns pointed at us while ghetto birds swirled overhead, things went very smoothly. We didn't lose too much narrative when we had to cut shots due to time constraints and we were quite pleased with the footage. The only other story from set worth documenting is the tale of Chali's mouth blood. Those of you familiar with things of this nature know that there are two types of blood: one for clothing/skin/prosthetics and another for oral usage. The former is gooey and while non-toxic, certainly isn't like putting cotton candy into your mouth. The latter is designed for accidental consumption and an overall pleasant experience so it is largely made up of mouthwash (so I've been told). Unfortunately, our wonderful make-up artist, Nicole Khitrik, hadn't been informed that we needed such blood so she was forced to reformulate her recipe for a new purpose. Since we were fighting the clock (the make-up effects were Chali's final shots), we could only spare a few minutes for tweaks. The result is a little viscous for my liking and was tantamount to torture for Chali who had to taste this unpalatable brew.
As I mentioned, I had very small sets to work with so my lighting package was low output: a 2k mighty mole, a few fresnels (1k, 650w, and 300w), two 1k par cans, and 2 source four lekos (36 deg). Cameron and I kept things pretty simple and relatively neutral on the gels. We rated the camera at 500 ISO and I played with the white balance a little bit pushing things towards the cooler side. The outside stuff was guerilla and didn't even have a bounce card in many instances since the contrasty top light gave a good moodiness to those portions of the video. Playing the Bond-inspired girl, is the talented Jamie Bernadette, who was very convincing and intimidating for her scenes.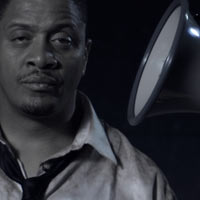 The post workflow on the last RED video was a nightmare for James. Ultimately it was good for the video because it meant that we were using higher resolution clips within our 2k timeline (final cut imports 4.5K, 3K, and 2K in at different (higher) resolutions). The issue is that FCP cannot instantly playback resolutions that do not match the timeline's native resolution. This meant that almost every clip had to be rendered in order to be seen. This posed a major issue for James and severely hampered his flow. Because I had to hit the road right after the shoot wrapped, I wasn't able to sit down with him and find a better solution. david tillman used this work flow on the "Salvae" video and never reported back any issues back to me so I assumed it was fine (to be fair, david has a much more powerful edit bay).
The clear solution this go around was to do an offline with all of the clips down rezzed to 2k. This is a widely accepted workflow and it works great for narrative work, but a motivator for James using the RED again is the ability to push into shots digitally with no quality loss. We decided that once the video is done that we would go back and recreate the zooms with the higher res clips. This is no walk in the park with all of the keyframes (or "4.5K dolly" as we call them), but James and I like to torture each other, so we dealt with it. A few weeks after the shoot, our DIT, Luis Flores, Jr., took all of our footage and did a one-light pass in Redcine-x and then exported 2k ProRes 422 (HQ) quicktimes and then did a full res export of the numerous clips that James pushed in on. I'm not gonna lie: I was a little hesitant to not go back to the native raw files and play with them directly in Color, but Luis did such a great job getting them close to where we needed them that the ProRes color space was more than adequate for colorist, Diego Petrusky, to work his magic.
After these two RED videos with James, I'm confident that we have finally found the proper workflow for his directorial/editorial style to utilize on our subsequent adventures. We will have a DIT do a one light on all the footage and export ProRes 422 HQ (or 4444 if there is green screen) in 2K files and at the native resolution. When James is editing and decides that he wants to add a zoom, he will use the full rez clip and only have to make his keyframe decision once. There are plenty of workflow choices out there on the web and there is no one-size fits all answer. When mixing resolutions (a necessary evil of shooting slow-motion in HD) things become a little more complicated. Many folks avoid 3K because of the headaches and extra variable that it adds in post, but I'm too conscious of resolution and field of view that I'd rather stay at 3K if I can get the proper frame rate that we need for the shot. As you probably know, a 50mm lens has a fixed field of view when shooting at 4.5K. Once you move to 3K, the 50mm is transformed into more of a telephoto lens, and an even tighter one at 2k. This is less of a concern for tight shots, because your 35mm becomes nice and long, but when you need a wide shot, the 18mm isn't so wide at 2K!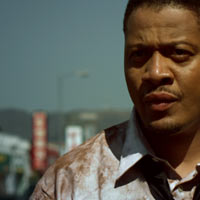 crew
the james – director/editor
mike lanza – executive producer
Jesse Ferguson – executive producer
dustin pearlman – cinematographer/producer
cody marksohn – production designer
cameron shaw – gaffer
marisol "soli" romero – key grip
cameron gibson -grip/electric swing
diego petrusky – 1st ac/colorist
luis flores, jr. – digital imaging technician
nicole khitrik – key make-up/make-up sfx
jacob simpson – production assistant
Don't miss the feature on Chali 2na on Okay Player's blog.
---
You might also like
---
---